Arno was active in the 1980s as a small team in Italian F3 and in the middle of 1985, they made the decision to enter Formula One in 1986. The chassis would have been built by the French AGS team, while the engine would have come from Carlo Chiti's Motori Moderni organisation. The team was financially backed by Jolly Club who came to the team with driver Mario Hytten.  It would soon become clear the team would eventually be AGS.
Note 1: Most of the story is based on information provided by Mario Hytten, who had already signed a contract to be the first driver.  The rest of the details came from the following issues of Autosport magazine: 2nd January 1986 and 6th February 1986.
The Arno International team were active in Italian F3 and were controlled by the Italian Piero Mancini, who had already sponsored Alessandro Nannini's Formula One career. Mancini owned a large Fiat dealership in Florence, a co-owner of Motori Moderni, and was widely known in the motorsport business.  While initially it appeared that the new team would be Italian and take the Arno name, in late 1985 it became clear that Arno would complete in the International F3000 championship and it would be AGS themselves entering Formula One. However this is not the end of the story.  Mancini and Mario Hytten signed a contract just a couple of weeks after  Mario finished 2nd at the last F3000 race of the season at Donington.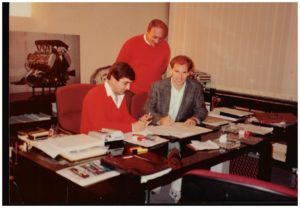 Mario Hytten while signs his contract in late 1985. In front Piero Mancini, Mario Hytten, standing Carlo Giorgio.
The contract said he would drive for Arno International in F3000 in 1986, do the testing of the Motori Moderni engine, and debute the AGS JH21C in September at Monza. Hytten was already qualified for a Superlicence required to drive in Formula One by virtue of racing a full season in the British F3 Championship in 1983, and having signed the contract Hytten visited both Carlo Chiti (Motori Moderni) and Henri Jullien (AGS) to check on the development of the car. However the team ended up with sponsorship from the Italian jeans designer El Charro, and it meant that instead of Hytten, it would be Ivan Capelli who would test and debut the JH21C, which was basically a scrapped Renault RE30. With the benefit of hindsight, having lost the chance to drive in F1, Hytten is pragmatic, stating;
"As it turns out, it does not look like I missed too much, because the AGS was a dog. Ivan did much better when he moved on to better teams."
We all know how AGS struggled in Formula One. Hytten continued to drive in F3000 and moved to the United States and competed in IMSA where he drove the URD-BMW and the Porsche 962 before he retired in 1992.
For pictures of the Arno Moderni  and copies of articles check this link.