The De Vos Monoposto also known as the De Vos Speciale was one of the first Dutch-built cars to attempt to join the Grand Prix circus. De Vos was the creation of A.J. de Vos from Strijensas, a Dutch motorsport enthusiast.
Note 1: Most of the info about the De Vos project came from the book Autodesign in Nederland by Jan Lammerse (ISBN: 9066303727).
Note 2: Many thanks to Jan Steutel.  He provided the information that the car had last been seen in the early 60's and not in 1953 as suggested before.
Note 3: I'm not 100% convinced that the dates between the redesign of the Hotchkin and the Grand Prix car are correct. The car was completed in 1937 (as far as known) and was planned to make its debut during the first race at Zandvoort.
The first contact with motorsport for de Vos came in 1930 when he bought a Hotchkiss which he redesigned into a low profile sports car, powered by a Ford V8 engine.  Five years later he started designing the De Vos Monoposto. He was inspired by the, at that time dominating, Auto Unions and the Auto Union would be used as a base for his own Grand Prix car. After the design of his own car was completed de Vos gave Uitman in Rotterdam the job of creating the chassis.  Like his sports car, the Grand Prix car would be powered by the Ford V8 engine, which was placed directly behind the driver.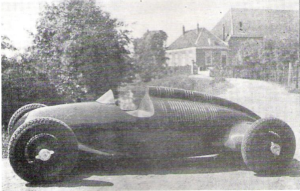 The De Vos would make its debut during the first car races at Zandvoort which were held in July 1939. Though there is speculation he didn't enter these first official races due to the weight of the car. The weight was 1017Kg – much heavier than the average Grand Prix car back then. During the war the car would be heavily damaged but de Vos was able to make repairs and have it put on the entry list for the XV Grand Prix des Frontières on the 8th of June 1946. However he didn't appear at the circuit. A couple of years later the car appeared in Amsterdam –Oost where it was for sale for fl 1000,-. A number of people drove the car and but their opinions were negative, calling it terrible, with a lack of grip. It would take at least another eight years before the car would re-appear again. This time it would appear in the 1960s in a school party from the IVA in Driebergen.  The car now had external cooling tubes and was driven by a Dutch musician. There are photos of the occasion but these haven't been uncovered as yet.
For picture's of the De Vos Monoposto  and copies of articles check this link.