A couple of years ago I questioned myself for the first time why there were no Chinese F1 teams nor drivers active in the Formula One. Oké, Ho-Pin Tung was a couple of years active for Williams. Born in Velp he is a fellow Dutchman, it seems he only uses his Chinese nationality if he can make some publicity out of it. However, the summer of 2017 changed it, when China F1 Racing Team Limited was registered in England. Would it be the first Chinese team, and bring it a talented Chinese driver?

During the summer, several rumours appeared of "groups" that were interested to enter the Formula One in 2018 or 2019. One of them was Zoran Stefanovic with Stefan GP, known from earlier attempts to enter the F1 in 1998 and in 2009 when he bought most of the Toyota F1 assets including their new car. A few weeks before Zoran announced his plans, I received the info of a Chinese F1 Team that was focussing to enter the Formula One in 2018 already! With their headquarters established in Oxfordshire. I was not sure what to do with the info, since it is actually a mission impossible to setup a brand new team during the mid-season to enter in 2018.
A week later I saw some news articles appeared on the web were Red Bull Racing's Christian Horner stated that several of his own employees were asked to if they were interested in a switch to the Chinese F1 Team. Also via twitter I received messages that former Manor employees were already been asked to join the team. It made me curious because the Manor Racing auction happened only weeks before. Did they buy many of the assets? Did they buy Manor's 2017 blueprints and the MRT 06 scale model?
I was not able to answer my own questions so I did more research on it.
A friend of mine saw that a company changed its name from Bronze Fortune Limited to China F1 Racing Team Limited, and tipped me about it. When I searched for Bronze Fortune Ltd. I found out it was a company of a French lawyer named Michael Orts. In the past, he seemed to have been active in Sports car Racing and some Endurance racing in Europe and a couple of times in America.  However, when I did more research on it I saw that the companies name change already occurred on may the 20th and not in June as many sites published. So what was the plan?
I recently did deeper research into China F1 Racing Team Limited and I found out the team, or better said registered, name didn't exist anymore and was changed back to Bronze Fortune Limited. I have not seen any article about this name change. In addition, when i looked at some documents i saw why the team could never appear on the grid, or been seen as a serious attempt. The teams 'bank balance, or better said Shareholders balance, was around 690.000 pounds not enough to even pay the entry fee for a team.  Other documents also showed that China F1 Racing Team Limited changed its name back again to Bronze Fortune Limited on the 25th of September just three months ago.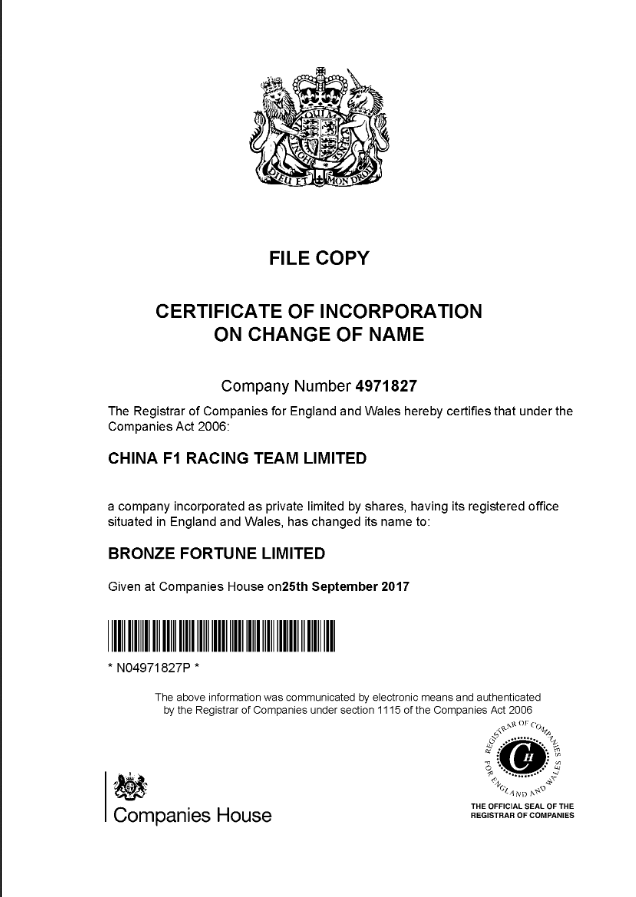 I can only guess what was going on here. It seems that under the lead of Michael Orts the team tried to find investors in China to start a brand new Formula One team under the Chinese flag. To give a boost to the Chinese motor sport. Or was there something else why this happened? The name change actually reminds me of the Phoenix Grand Prix team that temporarily changed their name to D.A.R.T., which was an old racing team name from Walkinshaw and Nickelson.  There are no signs of documents of involvement of any type of Chinese investment vehicle, for myself it is sure there was more going on than a Chinese F1 Team.
It does not mean it would not have been amazing if China F1 Racing Team Limited had managed it to enter the grid in 2020 or 2021.  China is a big country and there is a lot of money that would make it easily to establish a Chinese F1 Team.  
There is a Twitter page named China F1 Team, but im not sure if this an account for China F1 Racing or for the other Chinese team that made their announcement to join the Formula One in 2019.
Sources: Bloomberg.com / own connections / racexpress.nl / companieshouse.gov.uk / autosport.com /