Manor Racing a Formula One team with a short history in the Formula One. But a team that gained after they survived in 2014 a lot of fans around the world. A team that knew very hard times with the terrible dead of one of their top drivers Jules Bianchi, who scored in 2014 even two points for the team, and the terrible accident with Maria de Villota. This season the team would enter the Formula One with the Manor MRT 06, however we will never know how the car would have been.
2016 was maybe one of the best seasons for the Manor team. Pascal Wehrlein scored a 10th position at the Austrian Grand Prix, which gave the team a bright future. Since Sauber failed to impress in any Grand Prix the Manor team showed every race again their potential. However Sauber managed to score a 9th place during the Brazil Grand Prix. Which gave them the 10th place in the constructors championship. The first 10 teams in the Formula One earn a lot of money for their positions. The 11th team doesn't at this was the biggest problem for the Manor Team. They already survived several seasons with less money, but this season seemed to be even harder.  Without the Extra Millions the team announced in December that they were in Financial trouble and where looking for a new investor or Team Owner.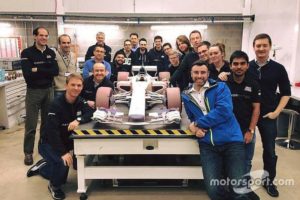 There were several rumours of whom would rescue the Manor Team. Ron Dennis was named a couple of times. Before he got fired at Mclaren he tried to buy the Mclaren team, backed by Chinese investors, however his plan failed. But it seemed Ron Dennis wasn't interested in buying Manor. Even Bernie Ecclestone was named as the new Team Owner of the Manor Team. We all know what happened now. Manor got Bankrupt and will close its doors at the end of January 2017.
Directly after the announcement that the Manor Team was folded the first photos of the Manor MRT 06 wind tunnel model where revealed on several Social Media. The Manor MRT 06 showed the wider dimensions who are permitted by the new regulations for the 2017 season. Notable are the flaps on the front wing. The car would be powered by the powerfull Mercedes engine. Rumoured where Esteban Gutierrez and Felipe Nasr to be the drivers in 2017.
The Manor MRT 06 looked promising, and that's probably it for the car. We will never know If the Manor MRT 06 would have been a success or a failure. The team got bankrupt and the chance they will be at the start in Australia over 57 days is 1%.  The lost of Manor means that the teams who joined the F1 a couple of years ago, are all gone.
For more pics of the MRT06 check this link.