Over time, many people have wondered – what if you could combine motorsport and football in some way? Well, this is an idea as old as the first car race in 1894, and there have been several attempts to make the idea work since then but most were not serious enough. But Premier 1 Grand Prix came close. Close enough that they were ready for their very first season in 2002. However not a single race weekend was completed and by 2004 the concept had collapsed. Here's the story of a fallen Unraced motor racing series.
Premier 1 Grand Prix was the brainchild of investor Colin Sullivan, who had tried to purchase Silverstone in 1999. In August 2000 the first news emerged about Premier 1 Grand Prix. This new race series was based on cars with the liveries of European and South American football clubs. The idea was to have at least 24 cars on the grid every weekend. The cars were to be built by Reynard and would be powered by Judd engines with 750bhp, and would use Avon slick tyres. The race weekend would have been made up of a qualifying session on the Saturday while two races lasting 100 miles or one hour, with a 30 minute break in between, were to be held on the Sunday.
There would be no pit stops during the races, and no electronic driving aids were allowed, as was the norm in F1 at the time. The series calendar was deliberately scheduled so as not to clash with F1 races to try and maximise audiences.
In October 2001 the FIA granted the series provisional backing and it seemed to have a bright future. In the meantime several teams declared an interest in joining Premier 1 Grand Prix, believing they could generate attractive profits after it was estimated that the teams would gain at least $1 million.
At first Dallara was asked to build the cars, but soon after Reynard were confirmed as the chassis builders for the series. Not long after the Reynard announcement the organisation released the 2002 calendar, which contained an impressive list of venues.
| | | | |
| --- | --- | --- | --- |
| 1 | Autódromo do Estoril | Estoril, Portugal | 14 July 2002 |
| 2 | EuroSpeedway Lausitz | Brandenburg, Germany | 4 August 2002 |
| 3 | Dijon-Prenois | Dijon, France | 11 August 2002 |
| 4 | Donington Park | Castle Donington, England | 25 August 2002 |
| 5 | Circuit Park Zandvoort | Zandvoort, Netherlands | 8 September 2002 |
| 6 | Brno Circuit | Brno, Czech Republic | 29 September 2002 |
| 7 | Misano Circuit | Misano, Italy | 6 October 2002 |
| 8 | Circuit Ricardo Tormo | Valencia, Spain | 20 October 2002 |
| 9 | Autódromo Juan y Oscar Gálvez | Buenos Aires, Argentina | 3 November 2002 |
| 10 | AutódromoInternacional Nelson Piquet | Rio de Janeiro, Brazil | 10 November 2002 |
After the announcement of the 2002 calendar it soon became clear that the Premier 1 Grand Prix series needed more time to make preparations. In addition, Reynard needed more time to design and produce the GP01, as the car would have been named. The car appeared similar to the Benetton B197 and rumours circulated that B197 blueprints had been used in the car's construction, though this was never proven.  Meanwhile, a number teams were announced as having signed up to the championship: Feyenoord, Chelsea, Lyon, Lazio, Roma, Leeds United, Benfica and Valencia were revealed, while teams including Bordeaux were rumoured to be joining too.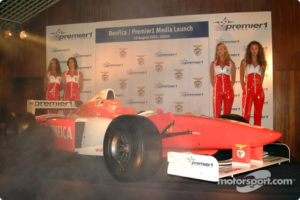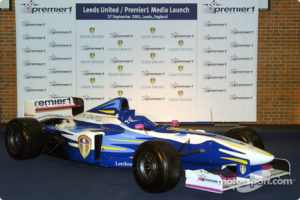 But during 2002 it became more and more apparent that the series would be delayed and before too long came the announcement that Premier 1 would in fact start in 2003. This was due in part because of the struggles that had begun to hit Reynard, but also because Premier 1 simply couldn't find enough teams to fill a 24 car grid. This was due mostly to the rivalry of Formula Nissan in Spain where rumours had suggested that Real Madrid and Barcelona would be joining that series. An interesting fact is that Dallara had designed the Formula Nissan chassis, having previously been contracted to make the chassis for the Premier 1 Grand Prix series.
Christian Scholbrock from Premier 1 told the media that testing would begin with the GP01 during the first week of April 2002. In the meantime many drivers were rumoured to be joining the series. Johnny Herbert was confirmed for the Chelsea team while Jacky van den Ende and Jeroen Bleekemolen were rumoured to be driving the Feyenoord car. Bas Leinders was rumoured to drive for the Anderlecht team while Pedro Lamy would drive the Benfica car. But more interesting were the rumours that suggested Mark Blundell, Nigel Mansell and Damon Hill would join the series, two former Formula One champions. But this news would soon be old as in February 2002, not long after the announcement of the testing plans, Reynard Motorsport was declared bankrupt.
Despite this setback, the teams had enough trust in Premier 1 to begin recruitment for their operations in the series. But in October 2002 the organisers announced that the series would be deferred until 2004. There was still no new company willing to design and build a chassis for Premier 1 now that Reynard had gone bankrupt and before long the teams that were interested in the series had gone very quiet while those that had been confirmed had begun to lose their faith.
After June 2003 there was very little news on the series and it seemed Premier 1 could not find a new company that could supply them with a chassis, or teams who had any interest left in the series.
It's not clear what happened to the cars that had already been built by Reynard, it's likely they were refurbished or ended up hidden away somewhere. Sources suggest Sullivan invested more than $100 million into Premier 1 Grand Prix – a big loss for what could have been an amazing racing series.
Readers familiar with the concept of football and motorsport will know that some years later in 2008 the SuperLeague Formula was founded which lasted for a couple of seasons. However it never had the success as intended and the series died in 2011, the same way that A1GP had folded via the back door.
These days it is still possible to visit the website of Premier 1 Grand Prix. The organisation had two sites. One is still online the other is reachable via the archive, You can use this link and this link.
For more pictures of the Premier 1 Grand Prix series check this link.