One of the victims from a turbulent 1994 F1 season was Team Lotus, who finally succumbed to their financial struggles during the year. Like Brabham two years earlier, a once-great name would vanish from F1. Lotus was Jim Clark, Jochen Rindt, Emerson Fittipaldi and Ayrton Senna first top team in F1, in the case of the former two…their legacies were associated with Ketteringham Hall. The upcoming 1983-1989 print book charts how Team Lotus went from being regular front runners during the mid-1980s to midfielders only a few years later.
After its release on 1/5/2020, we then intend to write a follow-up print book covering the team's final years of 1990 -1995. This follow-up book explains how Lotus then changed ownership at the end of 1990 and went from merely surviving that winter to finishing an incredible fifth in the 1992 constructor's championship. It seemed the former seven-time world champion team was on a clear upward trajectory having re-establishing themselves as regular point scorers. More good news came in the form of their leading driver, Herbert, resigning within the team for another 5 years by the end of 1992. Unfortunately this revival under Peter Collins proved short lived because behind the scenes debts were still piling up. The team only survived two more seasons in F1 after 1992.
The follow-up Team Lotus book (covering their 1990–1995 period) will detail the reasons why Peter Collins' failure to implement the exciting "10x" development plans for 1993? Or retain future star drivers like Hakkinen?
Coming into 1994, Lotus' had just finished 6th in the previous year's constructors championship and had been battling teams like Ligier, Sauber and Ferrari who had all enjoyed "works" engine contracts. Whereas Lotus had been enduring "customer" engines ever since 1991. Therefore the team believed the only way for them to beat those ahead would be via an exclusive engine deal with Mugen-Honda for 1994. "Although it was a 'works' deal, we still had to pay for it, however, it did give us A – Exclusivity and B – Development potential" according to Team Lotus' Head of Archives, Antony Burton who will be a key contributor to our upcoming Lotus books. "If you think about how we did with the Ford HB V8 Series 5 engine and think of what we could have done with the latter Series 7 that Benetton Formula received. We were hitting above our potential. That meant that we would always be playing second best as long as we were stuck with the V8. A costly decision, for sure, but one with a definite view to the future."
It was a big gamble because it either had the potential to make or break the team given their fragile financial position at the time, indeed some debts had been outstanding since 1991. Lotus' ability to race in 1994 despite its tight finances was largely thanks to certain creditors rescheduling their payments. All of which meant results were critical to the teams' survival beyond that year. Readers of the 1994 book will know that fateful season saw various technical restrictions imposed upon teams, whilst the upcoming 1990 – 1995 Lotus book will detail how they conspired against Ketteringham Hall. This partly explains why we saw the team at the back of F1 grids throughout most of that year. Nevertheless, the Hethel based team with a fighting spirit like no other just carried on believing things would eventually come good for them.
Despite the challenges facing them, it is inspiring just how loyal Lotus' staff were to the dream of re-establishing the iconic brand as F1 frontrunners. Remember, 1994 was probably one of F1's toughest seasons in modern times. Meaning some mechanics had to work over eighty-hour weeks thanks to the ever-changing rules during that year (again details of which are contained within the 1994 book). In addition to this, Lotus had to work with a new engine supplier for the upcoming season.
Mugen was founded by the son of Honda's owner and provided engine tuning & performance parts to its parent company. A new for 1994 Mugen engine (known as the ZA5D) with involvement from Honda (one of F1's most successful engine manufactures) was promised to Lotus partway through the season. Until then the team had to use an updated 1993 engine which ironically Footwork had ditched for the customer Ford V8 engine. Footwork thereby did the exact opposite to Lotus during the 1993/94 off-season in regards to engine choice and the 1990 – 1995 book will, therefore, investigate which gamble proved the better choice. The new ZA5D Mugen engine therefore gave all at Ketteringham Hall hope, when lesser teams might have thrown in the towel.
The team's plan for 1994 was to convert their 1993 car to a passive suspension and install the (older spec) Mugen engine along with a new semi-automatic gearbox as an interim solution. This was to be known as the 107C until Lotus' new for 1994 car (the 109) would be ready around the Spanish Grand Prix. The 107C was 45 kilograms overweight partly because the team didn't want to waste precious development funds on their interim car. Again the upcoming Lotus book covering their 1990 – 1995 period will detail how events then conspired against Kettingham Hall throughout the 1994 season, even after the newer 109 chassis was launched. Meaning for the first time in the team's 40 year history they were staring at a pointless season as 1994 approached its final quarter.
By contrast Footwork (who remember had swapped Mugen's for a customer Ford V8 in 1994) had been extremely competitive in the early races of 1994. So much so they even were accused of cheating via hidden & invisible legal driver aids after the Aida race (again alluded to in the 1994 book) just like the winners of that event, Schumacher & Benetton, were.
"Herbert admitted he lost motivation driving for Lotus in 1994 after the Englishman had been out qualified by a Simtek at that year's Hungarian GP."
The 1994 Italian Grand Prix, round 11 of 16, would be the crucial race for Team Lotus because this is where their new Mugen engine would debut. In comparison to the older unit it was more powerful (1,000 RPM's more), 13kg's lighter, and had a lower Center of Gravity. At a test before the crucial Monza race Herbert armed with that new ZA5D engine, lapped the Silverstone circuit 3 seconds quicker than his British GP qualifying time. It would have put him 3rd on the Silverstone grid. Would the new engine transform the 109's handling and traction for the rest of the season? That was what Lotus believed and the upcoming 1990-1995 Lotus book explores the detail behind the Hethel based team thinking on this front. In summary, this new Mugen engine was Lotus' final throw of the dice…it was win or bust from here on in. No half measures any more.
Ketteringham Hall's leading driver qualified 4th with the new Mugen at Italy thus proving his impressive Silverstone testing time was no fluke. His average qualifying position for the season thus far had been 20th. Whereas his teammate (Zanardi, at home ground) was forced to use the older engine because Lotus did not have any spare gearboxes compatible with the newer Mugen. Evidence of how bad the team's finances were by this point. Lotus' number two driver managed a season's best 13th on the grid, 1.4 seconds adrift of Herbert. Zanardi claims in his autobiography he would have been on pole with the new Mugen and suggests the telemetry between himself and Herbert proves that via his speed in corners. Nevertheless, there was a buzz of excitement in the Lotus pits afterwards because Mugen had made promising indications. Should the team secure a podium at Monza then financial support towards the future of Team Lotus might be forthcoming from Japan, which in turn might attract new potential new sponsors?
At the green light, Herbert got a better start than 1994 championship contender Hill's Williams and was eying up Berger's Ferrari for 2nd position heading into the first chicane. Unfortunately, Irvine's Jordan behind him missed his breaking point so smashed right into the back of the Lotus 109. This sent Herbert into a spin and left the furious driver beached over one of Monza's high kerbs, unable to get going again. Behind the pair, carnage ensued as 21 other cars tried picking their way past the stranded Lotus. The team were then handed a lifeline when the race was stopped and the Lotus (equipped with the new engine) was recovered back to the pits. Unfortunately there proved too much damage to its floor, meaning Herbert took to the spare car – equipped with the older & slower Mugen engine – instead. To add salt to the team's wounds, Herbert was then late out of his pits meaning he took that restart from the pit lane, rather than his 4th position on the grid.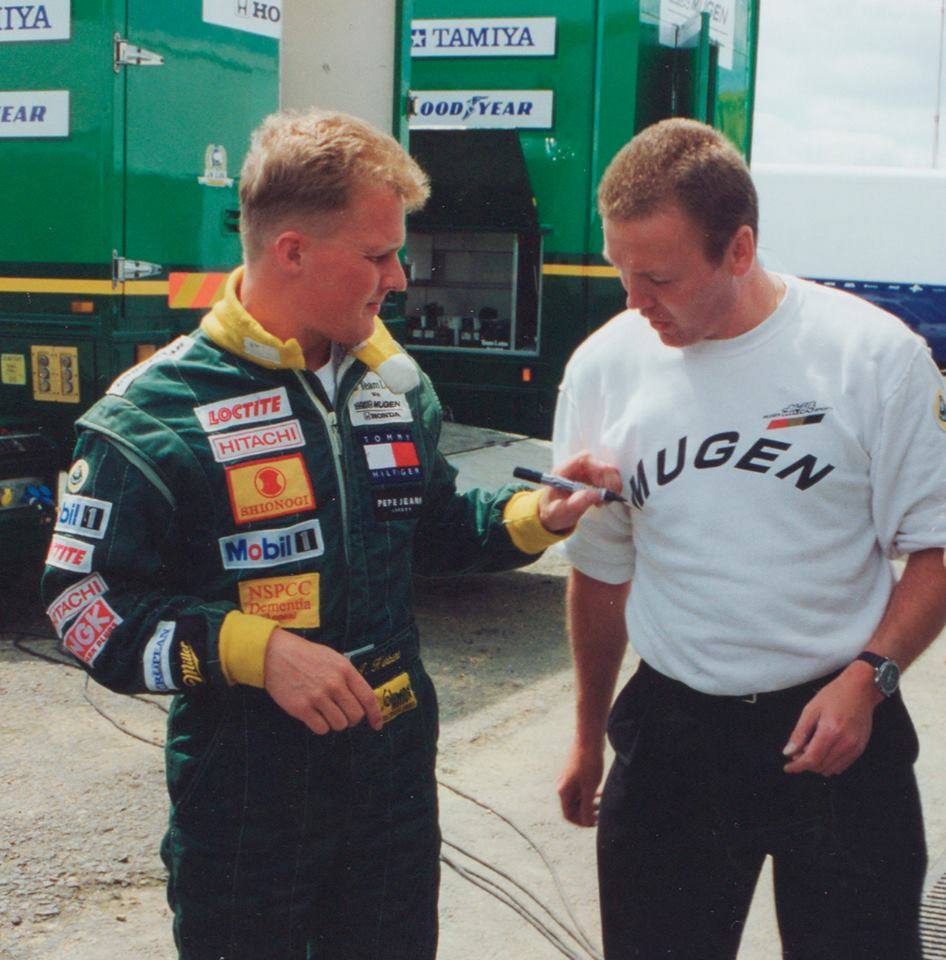 Zanardi, possibly the only man in the Lotus pits happy about Herbert's predicament, was now elevated to the team's leading driver at his home event. However, the Italian was now the subject of Lotus' bad luck. Because at the restarted race, Zanardi had been fighting over 10th place with the leading Benetton of Verstappen during the opening lap. Unfortunately at the Ascari Chicane, the Dutchman missed his breaking point and ran into the Lotus (with the older Mugen), thus ending the Italian's race soon afterwards. Herbert's race lasted 13 laps longer because the alternator failed in that spare car, which had not turned a wheel all weekend. The Englishman had moved up 10 places by that point, so some much-needed points were still possible had reliability been on his side.
"Irvine has done far too much damage this year and should be properly penalised" said a furious Herbert after this race. Whilst Lotus team boss Peter Collins added: "Formula One doesn't need drivers like this. Irvine's brain has obviously been removed and it is about time that his license is too." It was Irvine's second run-in with the stewards that weekend because the Irishman's Friday qualifying times had been deleted owing to him completing too many laps during the session. The rookie driver jokingly said "maybe we will be OK if we say a junior employee held out our pit board" following the Benetton fuel fire verdict which had just been announced. If you don't get the joke, then read the 1994 book.
Considering that Alesi's Ferrari didn't finish the race, and Berger's had been held up during his pit stop. Had Herbert been able to continue with the new Mugen engine then there's was a very strong chance he would have been on the podium, thus securing the additional Mugen support promised. With that, it's inevitably tempting to think that the Lotus story could have ended differently. As things turned out this result was the final nail in Lotus' coffin because the following day its directors placed the struggling team into administration. Herbert, being one of Lotus most valuable assets was soon sold off and this blog explains what happened during the rest of his year. Whilst various subsequent efforts were made to revive the team.
It did not help matters that Lotus were unable to recreate the speed shown with the new engine until Herbert's last testing session with the team, just after the Portuguese Grand Prix. Again the 1990 – 1995 Lotus book will explain this, why the team failed to score a point during those final four races of 1994 (with the new Mugen engine). Moreover, it will look into what Lotus could have done differently to survive? For instance was moving to Mugen for 1994 the right choice or their final death nail? Whereas the upcoming 1983 – 1989 book will detail how Team Lotus got themselves into serious financial problems during the 1990s (whereas comparable teams like Williams only when from strength to strength).
A question for you to ponder… What is it with Team Lotus that makes it appealing? Is it the cars? The drivers? Or history? To key book contributor and Team Lotus Head of Archives, Antony Burton: "it is/was the spirit of Team Lotus… I often say to people that we were the only outfit in F1 with the name Team in it, for that is what we were. A TEAM." It's a spirit and commitment which inspires one to fight against the odds, something you just can't buy. Thus we hope to capture some of that same spirit in our forthcoming Lotus books and make Colin Chapman proud. Indeed taking inspiration from the Lotus founder we have even been trying to reduce the print book's weight to reduce delivery costs for you readers.
If you enjoyed reading about this little bit of Team Lotus history, then you'll enjoy the new book: Team Lotus, Struggling Beyond The Post Colin Chapman Era. You can find out more about this book here whilst an abridged version is currently available to purchase on E-Book format here or Audio Book Format here. You can read/listen to a free sample and get more details of the book by clicking on the above links. If you prefer additional detail over the cheaper price than the Lotus print book is for you. If you are unsure, then please consult the below table:

I would recommend the print book as I think the extra detail is worth the extra money. However, I understand not everybody wants to spend £25.99 on a book hence why we have alternative options. Also please note that the Print book will not be released until 1/5/2020 and we are currently working on it. If you would like to pre-order the print book, then please click here.

Those who pre-order the print book will receive a choice of Lotus F1 car print similar to the below on 170gsm A4 glossy photo paper: (Note from UnracedF1: I would go for the Unraced Lotus103 and 112!)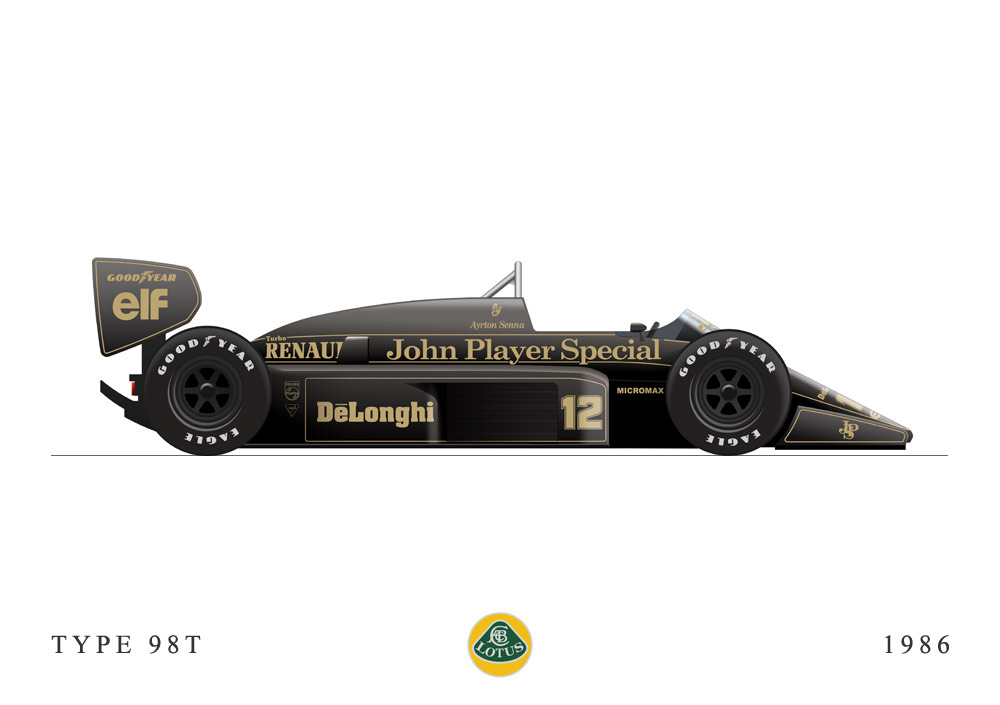 Print book owners will also receive this complimentary certificate with the authors printed signature. If you would like your book signed by in real life by both authors (Neil White & myself) please contact us here.
Please note we are only planning to print 100 copies of this book, and unless demand dictates otherwise that will be it. Thus pre-ordering is highly recommended to avoid disappointment. After the print book is released on 1/5/2020 we then intend to start work on a follow-up book covering Team Lotus's final years from 1990 onwards. If you would like to receive updates on this project then please sign up here; http://www.1994f1.com/contact/
Support future books here (whilst getting your hands on exclusive research): https://www.patreon.com/newbook

Thanks to Antony Burton, Jon Maplestone & Simon Stiel for helping with our ongoing Lotus book project. The photos used were courtesy of; Antony Burton, Stephen Lathamq, Alastair Ladd. Martin Lee and www.passionea300allora.it/forum/topic/60806-03-gran-premio-di-san-marino-1994/, with the latter two licensed under the Creative Commons Attribution 2.0 Generic license.