To commemorate the 25th anniversary of that horrific race weekend and the passing of two F1 drivers there will be 3 separate blogs over the coming days. Tomorrow's blog pays tribute to Roland Ratzenberger and how his accident helped spark an important safety legacy within F1. Wednesday's blog will remember Ayrton Senna's final 24 hours. However, today's blog gives a more personal recollection. Mike Fairholme is well known and respected amongst F1 circles having provided the finest bespoke helmets to over 60 Formula One drivers since the 1980s.
Mike Fairholme

Prince William, one of Mike's customers!
Below are Mike's memories of that time:
"This explains where I was career wise in 1994. As had been the case in previous seasons, 1994 began with being responsible for painting helmets for a number of F1 drivers. It was never certain if there would be late additions to the workload, but I'd anticipated there'd be helmets to paint for about eight. Before the season had started, because of a good relationship with the Williams team, I'd been asked if I could help produce a pair of helmets for Senna to use at the press launch & in early-season tests. I didn't expect this to continue as there was every possibility he'd use another brand & that company would take care of the painting too.
"The first two races of 1994 were 'flyaways' in Brazil & Aida in Japan, so I had to make sure I'd completed two helmets per driver in order to cover their requirements before racing returned to Europe. Shortly before the teams freighted the cars & spares off to Brazil, including the helmets I'd completed, I had a phone call from Roland Ratzenberger. I knew him well, as I'd painted his helmets since 1989 but he'd been racing in various Japanese series, so it was a big surprise to hear he's got a drive in F1 with Simtek! Getting additional helmets ready for him in time was going to be difficult because I was already running flat-out, but Roland was one of those really pleasant, amiable guys and I didn't want to let him down."
"Once the teams were away, the pressure didn't lift as I still had to complete the third helmet for each driver in time for the first European GP at Imola. Then, just after the Brazilian GP, Roland faxed me saying that he felt disappointed failing to qualify for his first F1 race, but thanked me for all my effort getting his helmets done in time and said it made him even more determined to start the next race. Williams then called, asking if there was any possibility I could paint the helmets for Senna. I'd heard he'd been impressed with my earlier work and, even though it was going to be difficult, I said I'd think about it and we'd discuss it again after Imola."
" In those days TV coverage was limited to qualifying and the race, and from memory, the Saturday broadcast opened with a replay of Barrichello's high-speed practice accident from the previous day. Rubens was using one of the helmets I'd painted for him and although the accident was huge, he had relatively light injuries. I then realised the helmet would have been damaged because he was concussed, so he'd be requiring a replacement very soon.

I was still thinking about a new helmet for Rubens and how much time I'd have to do it when I spotted a Simtek riding a kerb quite harshly. It appeared to look OK, but shortly afterwards there was a big crash and when the car came to rest, Roland's familiar red & white helmet was motionless in the cockpit. Suddenly my earlier worries regarding my schedule seemed totally insignificant…Of course, I watched TV again for the race on Sunday, but it wasn't without thoughts and recollections of the times I'd spoken with Roland, or of the few occasions we'd met."
Rubinho's crash at Imola

Rubinho's crash at Imola aftermath
"When the race started there was yet more drama when JJ Lehto had a problem with his Benetton's launch-control procedure which left him stationary on the grid. The field did well to avoid hitting his car, except for Pedro Lamy in his Lotus. Unsighted by smoke and the general starting chaos as the cars took off to the first corner, he hit the back of Lehto's car leaving both chassis immobile and stranded on the track. As the wrecked Lotus and Benetton were removed and the debris cleared, the rest of the field continued to circulate under control of the safety car. It was hard to take in, but I'd also painted the helmets worn by the two drivers involved in the start line accident. It really hadn't been a good weekend."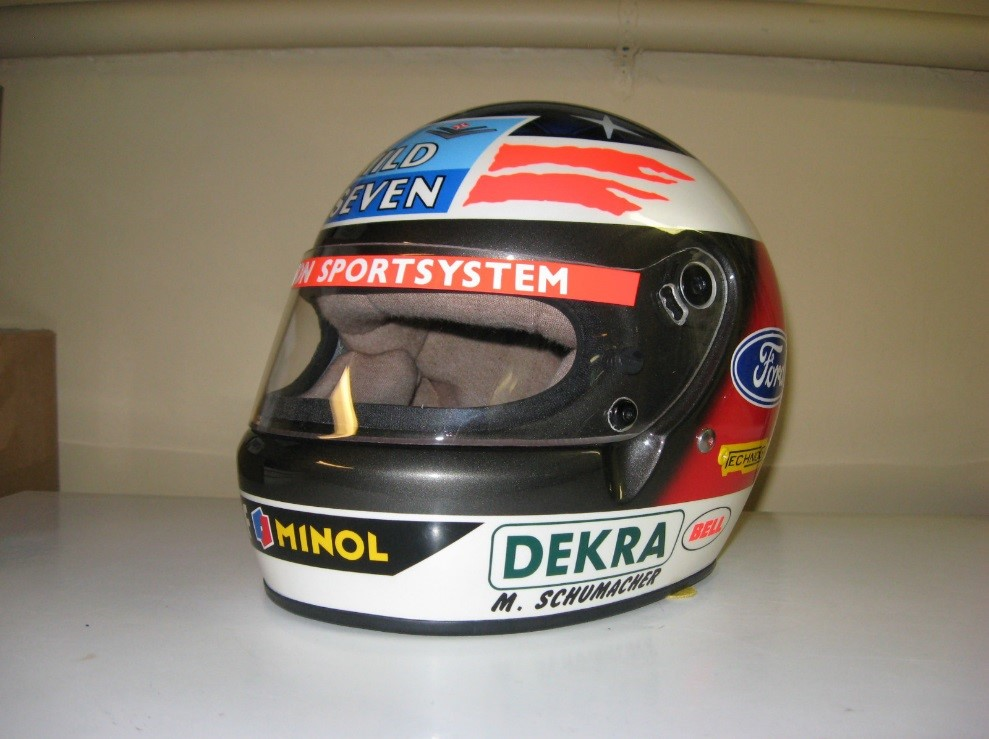 In the wake of these incidents, Senna's fatal crash later in the race and Wendlinger's Monaco accident, Sid Watkins (F1's doctor at the time) helped create the FIA safety group. Watkins specifically targeted drivers helmets first. Wendlinger's accident and Ratzenberger's death were significant but not as much as Senna's tragedy in driving this forward. Also related to Wendlinger's incident was the immediate ban on speakers inside helmets. Everyone had to use earplugs from this point onwards. Those speakers with heavy magnets were deemed unnecessary & dangerous – in fact, Karl's injury wasn't helped by them at all. It's hard to believe (but true) that this ban was fought, purely on the basis that there wasn't sufficient volume in a set of earpieces compared with speakers.
In March 2018, Motor Sport Magazine published an interview with Mike Fairholme entitled "Racing's artist in residence", i read the item last year myself already, it's well worth to read
Huge thanks to Mike Fairholme for sharing the above. If you found that fascinating then you'll enjoy 1994 – The Untold Story of a Tragic and Controversial F1 Season which is a new book explaining the various controversies and allegations from that year. The book is now available in print format from https://www.performancepublishing.co.uk/books.html or audiobook format from the below audiobook retailers.