1994, is in many ways a weird and unexplainable season. With lots of gossip and rumours of illegal software used on the car of Schumi, the dead of Roland Ratzenberger and Ayrton Senna and let's not forget the battle between Damon Hill and Michael Schumacher. Both drivers reached a point they started to hate each other. Ibrar's new blog is about this specific Feud between Hill and Schumi.
"I do not have as much respect for him as I do others. I would not have been in this position if Ayrton had been alive. He would have driven circles around me. That doesn't say much for Hill." (Michael Schumacher, Benetton Driver in 1994)
That scathing attack on his championship rival was just one of a number of comments made by Schumi during the build-up to the 1994 European Grand Prix. His comments were more than a contrived attempted at psychological warfare to undermining Hill. Schumacher was lashing out after all the pain he'd endured during that summer. He was outraged to be level on points with someone who hadn't beaten him in a straight fight all year. To him, the FIA were manipulating the championship and he was a mere pawn sacrificed in a bigger political game. Whether there was any truth in this is explored extensively in the book. Nevertheless, despite Schumi being absolved of blame for the launch control and fuel filter allegations, the German's image would forever be tarnished.
However, worst of all Schumacher was deeply offended by Hill fuelling the allegations. "There were a lot of stories from Hill's direction about the 'cheating car' and that sort of thing. Every time we proved that we never cheated, they twisted it around and said there was something else to answer. He always seemed the English gentleman but when you are in trouble you get to know people. Other competitors like Alesi have always been fair. He could have said the same things as Damon, but he never did…I don't expect him to stand up for me, but I don't expect that somebody should make it worse than it already is. He would have been better saying nothing at all."

After Schumacher's start in France Hill said publicly; "The Benetton seems to be able to go flat-out immediately and yet change direction without spinning its wheels under full power." These comments did nothing to dispel the rumours Schumi's Benetton was assisted by illegal driver aids. During another interview made after Hungary, Hill said; "All I can say is since Magny-Cours his starts haven't been so good, have they? We have to be honest about that. He's made a lot of practice starts here in testing. I've seen smoke pouring off his tyres when he's been doing them and I never saw one bit of smoke in the first eight races of the season." When asked about Schumacher's Silverstone formation lap antics, Hill ended his response with "…he brought it on himself that one." Hill publicly accused Schumacher of being a bad sport for not handing over the winner's trophy after Belgium, but it later transpired Williams had it all along.
Earlier in the year, Hill set up a photo giving Schumi two V-signs whilst the German drove past the Williams pit. Schumacher would have undoubtedly seen this before he made his outburst prior to the 1994 European GP which may partly explain it. Meanwhile, Hill reacted coolly to Schumacher's tirade against him "I'd rather not drag the championship down by trying to diminish the reputation of the opposition. I think that's sad." It was a PR master stroke by Hill because it gave him the image of a gentleman driver being attacked by a ruthless competitor.
Especially as the public at large was not aware of Hill's earlier comments regarding Schumacher and the aforementioned V-sign photo. To them the Benetton driver's sudden animosity towards the Englishman at Jerez looked unprovoked and unfair, so most had little sympathy for the German. For this reason, Schumacher's comments backfired, and a few weeks later he publicly apologised. Hill was also involved in the mind games at the time but was subtle in his approach. For instance, Schumacher rarely indulged in emotional language during interviews and generally, his manner was that of a cold professional. Therefore the press gave him a "robot" image. According to one journalist who covered F1 at the time, much of that came from things Hill said and propagated during media briefings, especially with reporters close to him. Hill was very articulate, so usually would have very interesting replies and come across as "human". It was pantomime, the media portrayed Schumacher as the villain and Hill as the hero – and the public loved it.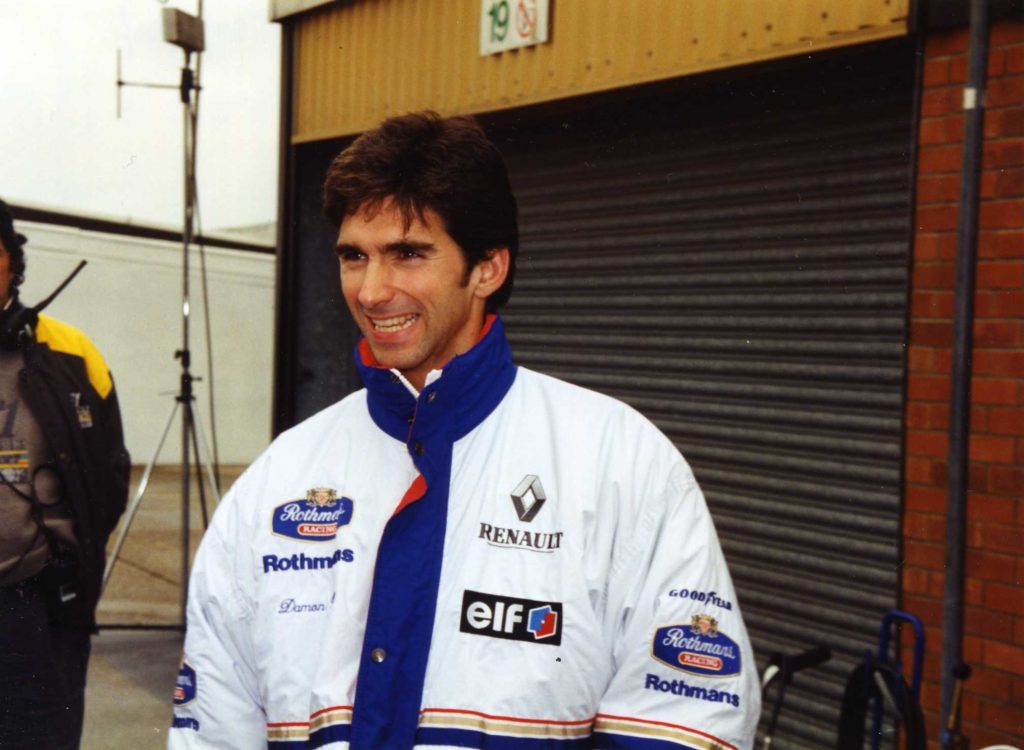 By now Hill had acquired the support of Senna fans including the World cup winning Brazilian football team, simply because he was fighting Ayrton's nemesis. By lifting Williams following Senna's death Hill emulated his father in 1968 who carried Lotus through identical circumstances following Jim Clark's death. If Damon won the championship for his fallen teammate, like his father Graham did in 1968, it would make a great feel-good story in the media.
Also, it would make Damon the first ever son of an F1 world champion, who went on to become world champion himself. In his recent autobiography Hill refers to events "…as a convenient PR rivalry between Schumi and me. Part of me thought it was good fun playing the Good Guy v Bad Guy game, but looking back I had picked a fight with the wrong guy." The F1 pantomime was enticed by Bernie Ecclestone who was responsible for ensuring the sport entertained, thus keeping sponsors and TV companies happy. Ecclestone engineered a photo opportunity of the two bitter rivals to sell the championship showdown to the world's media. Hill later said; "So, we sat on the pit wall and did our bit. I said to Michael 'come on, let's forget all this bullshit and attempts at psychological warfare.' He said: 'Yes after the championship.' So I said 'Fine' – and squeezed a little harder when I shook his hand." The animosity between the two was evident during the remainder of the season and led to THAT incident in Adelaide.
1994 – The Untold Story of a Tragic and Controversial F1 Season is a new book which amongst other things explains this and the various other controversies from that year. The book is now available from Performance Publishing's website where you can also read a free sample of the book. Alternatively, sign up at; www.1994f1.com/contact to receive exclusive information on the follow up book and have new blogs emailed to you.
Images courtesy; of Willem Toet and Alastair Ladd