Since the early days of Grand Prix racing many attempts were made to enter the Formula One and pre-war Grand Prix era. The period 1885 – 2021 contains over 650 Unraced projects. Every now and then new projects appear on the surface. To share with you all the stories i decided to summarize the stories per year. Don't you worry, all the stories will be researched and eventually published. This is the summarized overview of the 1959 season.
Aston Martin DBR6
In 1959 Aston Martin raced a couple of races with the DBR4, the car was not as successfully as they hoped. For 1960, Aston Martin worked on the DBR5, which was based on the DBR4. The car was lighter. The car only raced during the British Grand Prix of 1960. However, the team was working as well on the mostly unknown Aston Martin DBR6.

What was so special about this car? This car was designed as a rear-engined Formula 1 car. The story appeared in "Tales of the Toolbox" from Michael Oliver. Former Gerry Homes told the story.  The story goes as well that the design was scrapped because Aston Martin's road cars were all front-engined. Back in these days it was enough reason to scrap a design.  A model of the car was made though it was eventually scrapped. The same happened with the DBR5 cars. In favour of their Le-Mans cars.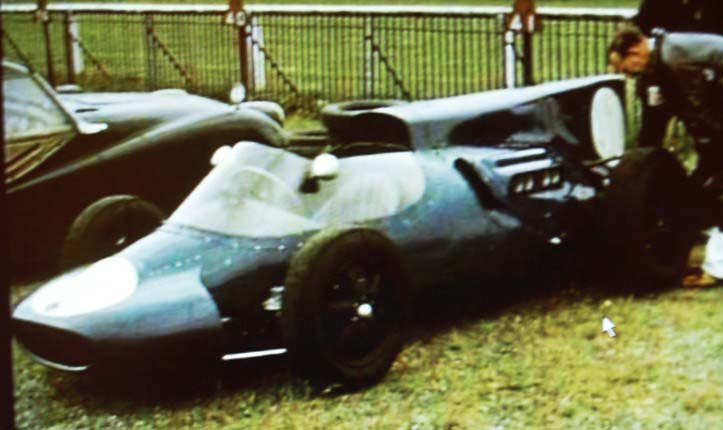 Cooper T51 Streamliner
In 1959 Jack Brabham would become the world champion with his Cooper T51. Nothing special you would say. However, during the Grand Prix of Reims Jack Brabham appeared in the special Cooper T51 Streamliner. Cooper designed a streamlined bodywork. During the free practice, the car was fitted with this bodywork. The car looked far from a Formula One car and had similarities with the Mercedes-Benz W196 as well on their earlier Cooper T40. While it's said that the car was only used in the free practice, Brabham tested the car before.

Eventually Cooper decided to discontinue the Streamliner bodywork. Because of the bodywork, the car became much lighter with steering because the front of the car would lift at higher speeds.
FRY F2 Climax
On the entry list for the British Grand Prix in 1959 an unknown car appeared. The FRY F2 Climax with Mike Parkes behind the wheel eventually failed to qualify for the race. So what car was it? David Fry and Alec Issigonis designed in 1958 a Formula 2 car. The car debuted in June 1958 during the F2 race at Brands Hatch. A couple of races were done with the car. In 1959, the car re-appeared at a couple of F2 races before the decision was made to enter the F1 race. It was the beginning of the end as the FRY F2 would not re-appear on the track.