25 Years ago Formula One lost one of its greatest ever drivers. Ayrton Senna's passing was felt across the globe, especially Brazil, which declared three days of official mourning. He had been the world's most famous racing driver and his death was broadcast live on television in front of millions. The grief felt was on par with the deaths of Princess Diana or JFK, and he is still sorely missed among F1 fans even 24 years on. The loss of Roland Ratzenberger a day earlier had been profoundly shocking, however, Senna's passing was another order of magnitude. It turned a shocking situation into the biggest crisis F1 had faced in recent times.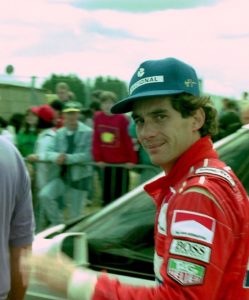 Senna was a complex, charismatic yet contradictory character who evoked strong emotions within others – qualities which were evident during the final hours of his tragically short life. The death of Roland Ratzenberger during qualifying for the 1994 San Marino GP, the first death at a race meeting in 12 years, deeply affected Senna. Indeed, the Brazilian commandeered an official FIA car to visit the accident himself as he wanted to understand what lessons could be learnt for the safety of others. It was something the triple world champion would be chastised for before the race.He then went to the medical centre where he was met by his friend Professor Sid Watkins, F1's senior doctor, who answered his questions with complete honesty. Upon learning that Ratzenberger was beyond medical help Senna could no longer hold back the tears. "You've got nothing left to prove. Give it up and let's go fishing together" Watkins told him. Senna took a long time to think about his reply "Sid, I have to go on". Those words must have haunted Watkins 24 hours later.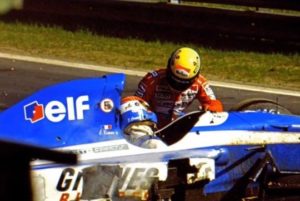 Perhaps the most comparable experience the Brazilian had to draw upon was the 1990 Spanish GP when Senna visited the scene of Martin Donnelly's near-fatal accident. In that example, he watched all the medical treatment the Ulster man was receiving possibly watching him die from a crash. He watched all the needles and syringes and the tracheotomy. Then he went back to his garage, put his helmet back on, visor down, and with just 10 minutes left, did the fastest lap of Jerez ever of that track. Maybe that was Senna's way of dealing with fear.
He later reflected on that day; "I had to put myself together, walk out, go to the racing car and do it again, and do it even better than before. Because that was the way to cover the impact it had on me." The next time Senna stepped into an F1 car after Ratzenberger's tragic accident was the following morning. The Brazilian topped the warm-up time sheets with a massive margin over the next car, just as he had done in Spain 1990.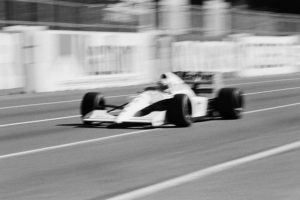 This is not to suggest the Brazilian was reckless. He was simply overcoming his fear by facing it head-on. At the 1994 San Marino GP there was an added incentive, Senna was determined to blow Michael Schumacher away and he wanted the German to know it. He had started that season as the overwhelming favourite to win the championship however Senna was being blown away by these upstarts, so he needed to reassert his authority on them. However Benetton appeared to be playing their own mind games; during that warm-up Schumacher was a massive 2.4 seconds slower, suggesting he might opt for an unfancied one-stop strategy in the race. Senna's lap time suggested the more conventional two-stop strategy, but Schumacher's lack of warm-up pace must have made the Brazilian wonder what his rival was up to.
Unknown to Benetton, Senna had other issues on his mind all of which is extensively detailed in an upcoming book entitled; 1994 – The Untold Story of a Tragic and Controversial F1 Season (see www.1994f1.com for more details). For instance, he had become increasingly concerned with F1 safety in recent times. Senna said in a pre-race interview how the reintroduction of refueling in 1994 turned races into a series of sprints with low fuel levels. The triple world champion considered this to be an unreasonable strain on both drivers and cars. Senna felt this factor had not been considered when refuelling was pushed through. Hence why Niki Lauda urged him as F1's most famous driver to reform the Grand Prix Drivers' Association and lobby the FIA for better safety for its participants.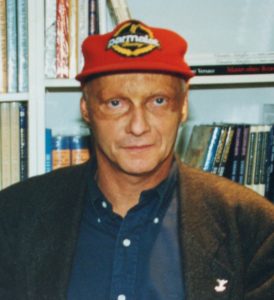 On the way to the pre-race drivers briefing, Senna asked Berger and Hill to raise a complaint for him. The Brazilian didn't want to be the instigator because he was in trouble with the FIA over his actions the previous day. Namely commandeering one of the official cars to visit the scene of Ratzenberger's accident and not attending the obligatory post-qualifying press conference. So at the behest of Senna, a complaint was made about the FIA using a standard road car to lead the field around the formation lap at Aida. The road car was too slow and prevented F1 drivers from getting their tyres up to the correct temperature/pressure. This adversely affected the handling and ride height of the F1 machines during the opening laps of a race and was something Senna was especially worried about. Consequently, the FIA decided not to use their road car prior to the start of an F1 race again.
Among the last people to speak with Senna before that fateful race was former rival Alain Prost who told Autosport Magazine in 2014. "…I met him (Senna) on Sunday twice – the main constant was safety and the fact that we he was not happy with the situation, thinking that the Benetton was not legal." Similarly, legendary Williams designer Adrian Newey said in his recent book "How to Build a Race Car" that he was in the garage when Ayrton came running in to get into his car for the race start. Newey had a quick chat with him and Senna "reiterated the fact that he felt he was going into a race against an illegal car. At the previous race in Japan, he had been eliminated at the first corner and spent quite some time watching Michael's Benetton, convinced that it had (illegal) traction control."
A new book entitled 1994 – The Untold Story of a Tragic and Controversial F1 Season investigates these cheating allegations against Benetton, the associated politics and much more. Keep checking www.1994f1.com for more F1 blogs and the release date for the book
  Images courtesy; of Martin Lee, Vikiskiss, Stuart Seeger and Osado via https://commons.wikimedia.org/wiki/Main_Page