Since the early days of Grand Prix racing many attempts were made to enter the Formula One and pre-war Grand Prix era. The period 1885 – 2021 contains over 650 Unraced projects. Every now and then new projects appear on the surface. To share with you all the stories i decided to summarize the stories per year. Don't you worry, all the stories will be researched and eventually published. This is the summarized overview of the 1971 season.
Khadi – 10
In 1971 the Soviet Khadi institute at Kharkov in Ukraine constructed a Formula One car. Vladimir Nikitin directed the company. Compliant with the regulations of the time. The Khadi – 10 was based on the Khadi – 08 that dates back to the mid-1960s. The car was fitted with a 3L V8 engine. However, the GAZ 20 engine that was fitted in the back of the Khadi produced only 250HP while the Cosworth DFV V8 engine at that time produced easily 450HP. The car was tested a couple of time. Due to the lack of power, the project was abandoned. It was one of the few Soviet attempts at those days that didn't see the Formula 1 grid. Although it could be possible, the cars were constructed to show the West the technical capabilities the country had.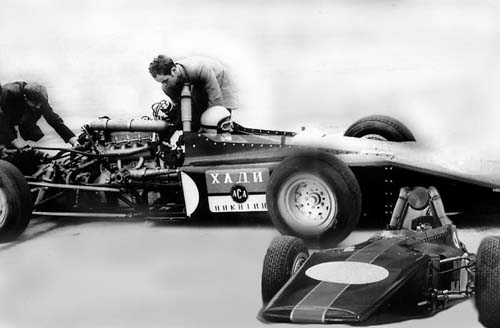 Pygmée – MDB16
Pygmée was a French manufacturer specialised in racing cars in the 1960s and 1970s. In the 13 years the company existed, they were active in several Formulae series. They were well known for their Formula 2 and Junior Formula cars. In 1970, the company constructed the MDB16. While in 1971 the rumours were spread that the company was looking to adapt one of their MDB16 for the Formula One in that era. There is not much info to find about these plans. Sadly the team closed the doors soon after.  You can read the story here.
The Sinclair Special from the Persuaders
Sinclair Special was the Formula 1 car Brett Sinclair was seen it at the last episode of the Persuaders. The car that was used in the series looked similar to the March 701. However, the car they drove with was a Lola T190 fitted with the Moran Chrysler V8 engine. Indeed this was an F5000 car You can read the article here.