Barry Manilow wrote in 1978 a song dedicated to Lola. Lola was a showgirl, little did he know the song would reflect perfectly on Lola's last two attempts to design a F1 car. The Lola T95/30 was a nightmare dressed like a daydream, a hybrid stuck between 1994 and 1995 regulations. The Lola T97/30 was sweet, hot but 100% a psycho. A definition of these cars you probably never heard before. My showgirl, my hot rhythm to nowhere. Oh Lola! This is an ode to Lola's last f1 cars.
An Ode for that showgirl that could not impress us on the tarmac. Though did impress us by her looks, her lines and her dedication to mess with our heads. As Mozart wrote his ode to Joy, only is this different.
The oldest showgirl is the T95/30 the one that knew what sexy meant. Naked in the sunlight, showing of her body, her speed and her strange moves. The car that should not have existed, that did exist. The car that was a Frankenstein hybrid between two regulations. At a time, the FIA did not know what they want. Did they want nudity, or did they want classy. There you was in December 1994. With Allan McNish behind the wheel. Driving around Santa Pod and later in December 1994 on Silverstone. Sugar coated by the nice words spoken about you. Sadly, you were only a Showgirl.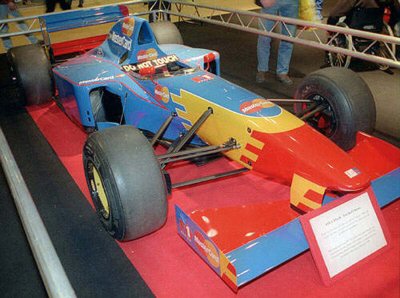 The plans were to debut in 1995 or 1996 with you on the tracks, or with your younger sister. You were nothing else than Lola the Showgirl, like Barry Manilow already sang about in 1978. The perfection that never was. The perfect life in the race tracks chasing down win after win that never happened. It goes to the extreme to say you would win, though this is an Ode to you, so yes you would have won those races. With McNish as your driver.
While you were nothing more eventually then the showgirl there came your younger sister. The Lola T97/30 created within a few months, I still believe you were the beauty that they chose as base. Proof I don't have, all I know is that they created you via CAD, you were a digital beauty. A sweet looking car that would end up like an adorable psycho. Powered by your own V10 engine, well that was the idea. You ended up with a cheap Ford V8 engine. Not the power you had deserved. Ruined by a big company with big plans you appeared in February on the tracks after you represented yourself to the world. In some hotel. Like a showgirl.
On the tracks your actions were far from show worthy, you failed to be quick, you failed to be reliable. You did not let them improve you. Only after one Grand Prix it was over. You loved the game. Lola went reckless, breathless towards total destruction. While you kept on shining. Lola Cars went into bankruptcy. The last showgirl was the beauty that became the horror and terror for many.
There was also the forgotten Showgirl, it was you with the MasterCard livery on your body. Shining like never before during the International Racing Car Show in Birmingham, January 1997. Well, it said the Lola T94/30 test bed. There was even a sign on you "Do not touch" it makes you even more mysterious. You have to be the real showgirl. The one we would never see ever again. Disappeared in thin air, the one of showgirl.
This is my ode of love, of torture, of respect of wildness towards you. Lola was a Showgirl who destroyed a complete company. Sweet but psycho. A sugar coated nightmare that came to live.