Nigel Mansell won the 1992 F1 world championship comfortably before announcing his shocking switch to American Indy car racing for the following year. He had become fed up with protracted contract renewal negotiations so departed his beloved Williams and F1 on sour terms. Given these circumstances, it makes Mansell's return to both for 1994 all the more remarkable.
The newest blog from Ibrar Malik.
The upcoming book provides more detail, but essentially Nigel's return to F1 in 1994 was a direct result of Senna's tragic accident. Because F1 was left without any world champions on the grid and Schumacher was dominating races, Bernie Ecclestone needed to bring some positive news to a sport in crisis. F1's commercial supremo, therefore, engineered Mansell's return believing it would give Schumacher a worthy rival whilst also increasing television ratings.

The deal worked for Williams because thus far their FW16 car proved troublesome to set-up so Mansell's vast experience might help identify that elusive 'sweet spot'. Moreover, the additional crowds Nigel would pull in during his comeback race, the French Grand Prix, would be attractive to Williams' French engine suppliers (Renault). However Renault were paying Mansell a superstar salary whereas their regular driver, Hill, was on a fraction of that amount. The question was how would Mansell compare with the new stars of Formula One like Hill, and Schumacher?
"That's the first time I drove my balls off to get the pole," Hill said after narrowly beating Mansell to the top spot. "It focused Damon," Nigel later admitted, "because getting back in the car after two years, I shouldn't have been anywhere near it." Hill also claimed to have the 1992 world champion supporting his set up feedback within the team helped him gain respect and support internally. Due to his Indy car commitments, Mansell couldn't return again until the final three races of 1994 at which point things were tougher.
Because by then Hill had demanded David Brown, the key Williams engineer who assisted Mansell and Prost to their championships, worked on Damon's car rather than the number 2 Williams. It was a clever move by Damon because David Brown and Mansell had a special relationship from 1992, So Hill's move ensured Nigel didn't outperform him upon his return.
The 41-year-old was also not used to standing starts because rolling starts were used in Indy cars and his 1992 Williams had been equipped with traction control. Therefore Mansell showed this rustiness by getting massive wheel spin and losing several places during all of his 1994 F1 starts. Furthermore, Mansell claimed to have arrived at F1 events "spaced out" because he was regularly flying backwards and forwards from his home in America. In addition, he was having to juggle impressing Williams enough to secure a full-time F1 drive with them whilst not harming Hill's title challenge in the process.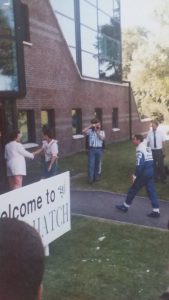 Nigel had been competing against David Coulthard for the 1995 Williams drive and things got so competitive between them, that the ex-world champion barred the Scot from entering his garage during the Japanese & Australian race weekends. As a joke, Coulthard banned signs appeared in the Williams pits with a photo of the unwanted colleague with a red diagonal stripe across it.
Mansell's best showing did, however, come at the final race of the year after he out-qualified the two title contenders, Hill and Schumacher. Afterwards, the returning F1 star claimed; "I was told all sorts of things by the powers-that-be. 'You will not be part of this race, don't get a good start, watch the race, do not interfere…' So I deliberately didn't get a very good start and I just sat there and watched." The race turned into an enthralling duel for the championship until Schumacher collided with Hill to take the 1994 crown under controversial circumstances.
It gifted Mansell the win, but even that did not stop Williams committing to Coulthard for 1995. Nigel then joined the new exciting partnership of McLaren Mercedes, but this proved a major disappointment. After missing the first two races because he had struggled to fit into the car, Mansell then performed poorly before walking away from F1 after only two races with McLaren. Although that was Mansell's final Grand Prix he hasn't officially confirmed his retirement…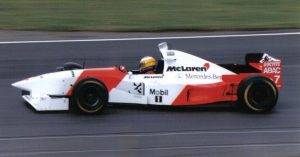 The book – 1994: The Untold Story of a Tragic and Controversial Season investigates this and the various other mysteries from that fateful season. Keep checking www.1994f1.com for more F1 blogs and the precise January 2019 release date for the book. Alternatively sign up here; http://www.1994f1.com/contact/ to receive the book's release date automatically.