The Durango team, led by Ivone Pinton and Enrico Magro, had one unfulfilled dream: to enter Formula One! Over the years the team announced on a number of occasions that they were ready to enter F1, and yet somehow they never actually managed it. This is the story of a small team with big dreams!
The small Durango team entered F3000 in the early 1990s failing to win a single race in the series. During this period Pinton and Magro already had the idea to enter Formula One and in December 1995 announced they were on course to enter F1 in 1997. At first no one took the announcement seriously and dismissed it as a publicity stunt to gain sponsors for their F3000 team. After a couple of months of silence, on the 15th April 1996 Pinton announced that the Durango team was ready to enter Formula One in 1997. Now armed with drawings of a concept car named the Durango P01, the project appeared more credible, and people began to take notice. The P01 car was designed by Enrique Scalabroni and the chassis would be built by French composite specialists SNPE, who also built the Simtek S941 chassis. Pinton added that the car would be ready in June, to allow the team to intensively test its new design. Rumours stated that Christian Pescatori would be Durango's test driver, and would also occupy one of the two race seats upon their entry into F1 in 1997. During May 1996 more rumours circulated, this time suggesting the team would sign a contract with the famous engine constructor Hart. Despite all this, throughout the summer Durango revealed neither a chassis nor any updates of their plans. Then in August the team told the media that they had difficulties in completing the deal with Hart, and that the development of the chassis was on-hold. A few weeks later Pinton announced that their Formula One project had stalled, and instead Durango would remain focused on the F3000 series.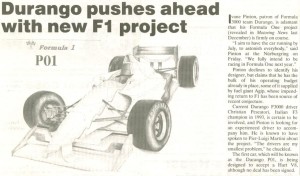 The Durango team remained in F3000 and entered other series such as GP2 and Le Mans and many years passed by. That is, until 2009 when the FIA opened the tender process to enter Formula One in 2010. This prompted Durango to attempt to enter F1 for a second time themselves. Ultimately however, Virgin Racing, Lotus, Campos and USF1 were chosen as the new F1 entrants for 2010, and Durango missed out. USF1 failed very quickly in their attempt to enter the sport and wouldn't even contest a single race, leaving a slot available on the expanded 26-car grid. As a result, the FIA announced another round of bids to enter Formula One, this time for 2011. Durango decided to enter the contest once again, but this time they were backed by 1997 champion Jacques Villeneuve which brought the entry a lot of publicity. Villeneuve and Durango had a plan to enter Formula One with their own team and Villeneuve would be the number one driver. It is likely that Durango would have asked Dallara or Lola to manufacture an F1 chassis for them, or there may have been the possibility of using Toyota's unraced TF110 chassis. It is known that Durango at least had meetings with Toyota about using their car which had been designed for the 2010 season before Toyota pulled out of F1. Rumours speculated that the team would have asked Ferrari or Ford to provide them with engines. Since Durango is an Italian team based in Veneto it may have transpired that Durango would be turned into a Ferrari B team, in a similar vein to Red Bull and Toro Rosso.
Ultimately, the FIA approved none of the prospective entrants for 2011, and the grid remained at 24 cars. Despite being unsuccessful, rumours linked Durango with an attempt to buy the HRT team during the 2011 season, or partner with the team and rename it for 2012.
Neither of these happened though, the dream remained unfulfilled, and the team never entered Formula One.
For picture's of the Durango  and copies of articles check this link.