It is February 2004 when suddenly in the Dutch media the news appears that Tom Coronel is close to sign a deal with the Minardi Team to be their third driver in 2004. Besides that, Tom would test for the team in the summer probably a Vallelunga or Misano with the Minardi PS04A.  As well, he would be one of the drivers for the Minardi two-seaters program and do demonstration runs with an older Minardi. Probably during the Marlboro Masters at Zandvoort. It all never materialised. What happened?
Before I can answer the what happened question I need to bring you back to the moment that Tom Coronel tested with the Arrows A20 at Barcelona. He tested two days for the team the 16th and 17th of December 1999.  At that moment, he was in the race to become one of the drivers for the Arrows team in 2000. Looking at Tom Coronel his testing times he did a quiet impressive job, if you ask me. His best times can be found here on the old Atlas Test archive. For example, he wasn't much slower than Alesi in the Prost.
However, I always felt that something didn't feel right about the testing. There were two rumours going around over here. The Arrows team was going for an all-Dutch setup with Tom Coronel and Jos Verstappen as their drivers. While the majority of the sponsors would be Dutch such as Chello, Lost Boys, Ahold and so on.
The other story well I should pronounce it as a rumour that was going around first locally here, I don't live that far from Montfort, was that Tom's test with the Arrows A19 was only a way to put pressure on the negotiations between Verstappen and Walkinshaw. Obviously, the other Tom wanted more money from Verstappen to race for the team. I'm not sure in what detail it has been covered in the media. It was known that Arrows desperately wanted Verstappen in their team. He was in 1996 next to Ricardo Rosset already one of their drivers. In 1993, he tested with the Footwork so he was well known. I believed that Jos Verstappen eventually brought 7 million with him instead of the needed 5.
Not to forget to mention that Verstappen was the driver to race with the Honda RA00 (which would obviously become the RA99). Eventually he tested as well with the Jordan to replace Damon Hill who was close to stop racing.
Eventually Jos Verstappen signed the three-year deal with Orange Arrows, next to him was the Spaniard Pedro de la Rosa. How about Tom? Because he focused himself full on his Formula 1 adventure, he had no drive for 2000.  He drove in the 24 Hours of Le Mans with Racing for Holland and did some FIA GT races with Mike Hezemans.
Fast forward four years later; in the early winter of 2004, the first rumours appeared about Tom Coronel and the Formula One, once more. Interesting is the fact that Tom was focussed on GT and Touring car races as he competed in the DTCC, ETCC, FIA GT, Le Mans, JGTC and so on. In February the first talks were held with Minardi to sign a contract. Established via late Ruud Wildschut who would become Minardi's main sponsor. A story that will receive it's own article as some weird Chinese consortium was to sponsor Minardi as well.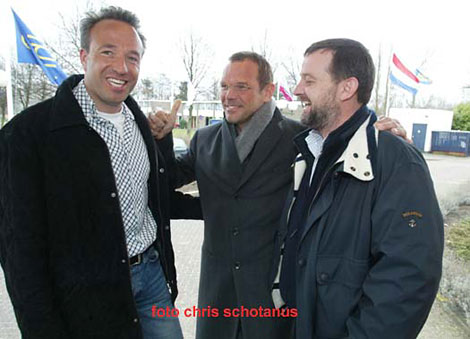 However, there is Jos Verstappen once more. Verstappen competed for Minardi in 2003 in the Formula One. While Verstappen became very negative in the press about the team Minardi was still hoping that Verstappen would stay with the team. As you can read here, eventually Verstappen would not return in the F1 at all. Wilux was one of Verstappen's sponsors in 2003 and continued their sponsorship with Minardi. The sponsor would become even more prominent. Minardi would officially become Wilux Minardi F1 Team while their name and logo would appear on the side pods, rear wing and front wing.
Before the deal between Wilux and Minardi was signed, as there was some weird Chinese consortium involved with Minardi, there were already talks between Coronel, Wildschut and Stoddart to be the team's third driver in 2004.  Their meeting happened on the 18th of February 2004 at Airport Rotterdam.
Invited for the meeting, and attempting the meeting it is not sure what has been discussed back then. Most of the media stated that Tom would sign a contract to be the team's third driver. Would appear on the Friday's in the Minardi PS04A. In case Zsolt Baumgartner or Gianmaria Bruni are not able to race, he would be the first driver to replace them. As already mentioned there was also discussed to participate in Minardi's 2-seater program. What I forgot is that the position of Zsolt at that time was far from sure that he was still looking for the needed money to race for Minardi. A small chance for Tom Coronel to debut in the Formula One after all.
We know now that Zsolt Baumgartner managed to deal with the finance and become next to Bruni Minardi's driver for 2004.  From the Media outlets seem to go separated ways. Some quoted Tom Coronel stating that he signed a contract with Minardi and was certain to be their third driver. Other media outlets stated that Coronel was still in speaking terms with Minardi and Wilux for his position with Minardi.
Looking on Tom Coronel's his own page there is an item published the 22th of February 2004 about a fan club meeting stating the rumours about his Minardi deal.  Tom told the people there that there was no contract signed. He was asked by Minardi Wilux if he was available to do some PR for the team.  Part of this PR was the two-seater program from Minardi.
More interesting is the statement that Wilux will decided who will replace Baumgartner or Bruni when they get ill. If Tom want's to replace one of them when needed he needs to get his super license. He will only get it if he tests enough with a Formula One car. Only then, he can make his debut in the Formula One as a driver. Wilux promised Coronel the needed testing kilometres.
After the 22th of February 2004, it become quiet, very quiet. There was no new news about Coronel or Minardi. Eventually, on the 3th of March 2004 the news came that Belgium driver Bas Leinders would become Minardi's test and reserve driver in 2004. In an article that appeared in the Dutch magazine Racereporter, which is merged today with Formule 1, in March 2004 Tom said that he was not sure about his chances for the Formula 1. However, he had more options in mind for the future.
A few months later in May, Wildschut said in the media that he wanted to kick Bruni out of the team and bring a Dutchman in. Would it be Tom Coronel eventually? No, certainly not said Wildschut in the Dutch paper Algemeen Dagblad. As Bruni could not handle the pressure, Paul gave the green light to look for a replacement driver. A Dutchie!
Jos Verstappen and Christijan Albers having politely thanks for the honour, Wildschut was thinking about Robert Doornbos or Ho-Pin Tung as replacement.
Then there is an episode in Tom Coronel's his F1 adventure that nobody seems to know or have forgotten. When I asked him 4 years ago on Facebook if he was close to race for Minardi in 2001 or 2004 he replied that it was Prost. Assuming for 2001 as Prost disappeared in 2002. Sadly, i have no more info about this. Only the proof is in the link to the Facebook comment.