I was told that it was good to do a Q&A with myself. As I believe in self-reflection but believe  it's a bit selfish to interview myself I asked the followers and fans of UnracedF1 if they had any questions for me. I got a couple to answer. Probably you won't learn anything of it. Most of you already know me.
How did you become interested in Formula one?
 Probably it happened in 1994 when I was four. The first race I can remember is the Hungaroring in 1994 when Jos Verstappen arrived on the podium. Somehow, I can still remember my father's reaction and feel his emotion from then. That enthusiasm sucked me into the amazing world of Formula One. 
Why the interested for the Unraced?
I general I love to read stories of the unknown and do my own investigation on it, mostly fact checking.
A long time ago, I was a member on a long gone forum gp3.gamer.nl this has to be in 2001 already. There was a topic dedicated to the unraced Formula One projects. It catches my attention already and I figured it out I did a good job, if I say myself, with researching and do some deep research.  First I started on freewebs with some website. Later i came in contact with Forix which has the holy grail of unraced projects listed from pre-war and after the war! Which i made my contribution to as well before i started with the website.
Why are there no ads on the website?
I never started the website with the intention to earn any money on it; sure, I could do it. I only believe it destroys the website. The costs are not that high to keep the site up and running. Another big reason is the fact I'm independent and want to be able to write whatever I want. I'm aware my comments and stories are with a personal twist and there are every now and then people who are mad because of it.  I really don't care if people don't like my opinions.  However, it makes the website mine. There is no need for Clickbait title and lean all articles to Max Verstappen. Which happens a lot in the Netherlands.
What's your personal best story you published so far?
This will be the Phoenix Grand Prix story i did a lot of research in it and was able to come in contact with Charles Nickerson the person behind the project. The recent Arrows A23 Saga is as well one of my personal best stories.
How many visitors does the website have?
It depends on the amount of articles I post on it, the last year it's around 3500 – 4000 unique visitors a month regarding Google analytics. To be honest I would never expect that much visitors every month when I started with the website 7 years ago.
When did you decide to start the website?
In a period when my father was terminally ill. It gave me rest and distraction. I believe I registered the site already in 2011, though started do something with in 2013. In 2011 I only had an digital archive and my personal archive though no articles were ready yet. As well in the very beginning we were with two of us. Below are a few pics of the old website as it was intended to be.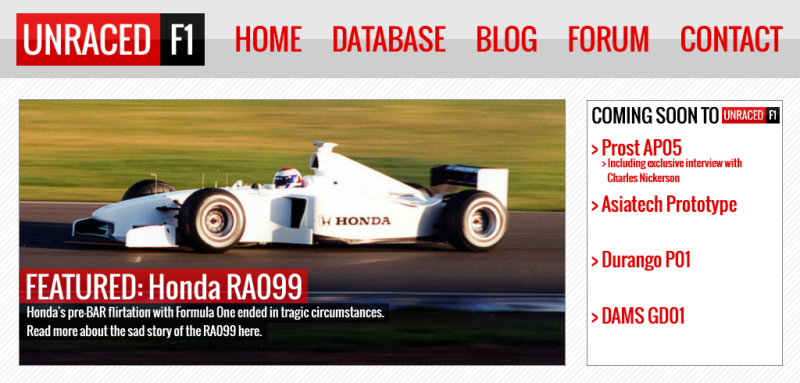 What is your favourite F1 era?
The 1990s somehow the cars, especially the early 90s, look smooth and fast. No stupid flaps on flaps. Just plain lines. I describe that era more as the F1Porn era. I believe it is the last era as well that people just tried their luck in the Formula One as the regulations were not that strict.  
Who are your favourite drivers?
Current Formula One it will be Kimi Räikkönen and Lando Norris. However, I have always been a huge fan of Jos Verstappen, Michael Schumacher, Giovanni Lavaggi and Esteban Tuero.
All-time favourite team?
Minardi of course!
Best atmosphere on the circuit you experienced?
This was during the A1GP race in 2007 and 2008 at Zandvoort. It was the last time I've seen so many people there in the dunes. Everyone was cheerful. The cars of course were marvellous with their lovely engine sound.  I still have my Team Pakistani cap!——
What changes would you like to see in the current technical regulations?
I would love to put the regulations in the shredder and get back to the technical regulations from late 1990s early 2000s. The cars were, I believe, on it's best at that time. I already partially lost focus on today's Formula One. I'm not a fan of the micro management of tyres, fuel and so on. It seems im one of the few who dares to say it.
How many unraced projects are you aware of?
I'm aware of at least 650 projects that can be classified as Unraced. It's the time period from 1890 up to today's Formula One. It is only hard to investigate the old unraced stories.
What will you do when you cover all possible unraced stories?
Some say I will start my own racing team and race with the unraced haha. I will probably buy the best cigar in the world that available and smoke it like a boss. However, I assume this will be in 2098. Probably it will never end I keep on recovering new stories.
Have you ever been recognized by drivers or persons when you were on the track?
I have been a couple of times. For instance, Gian Carlo Minardi and Arturo Merzario came to me. As well, Gijs van Lennep and some other Dutch race drivers did recognize me. Most of the people I speak for my website are former engineers, designers, team owners and so on. I had a couple of encounters with me people, who knew me, but I didn't knew them and that's pretty strange to be honest.
Will you eventually write your own book? Do it!
I believe I have been posting about it a few years ago. However, for now the answer is no I won't. The problem is that everyone in that case wants anything from you and im not really the person for it that has time for those nonsense as well there will be a couple of disputes which will result in a cancelation of the book.
What do you do besides UnracedF1?
I work in the healthcare sector as well I started last year my political career that had a kick start instantly. In my spare time I work on the UnracedF1, read books (mostly all political themed) and of course I enjoy the historical Formula One races and when possible visit a festival or a party with friends of mine.