AGS was a small French team which entered Formula One in 1986 with their JH21C car. This car tells the history of the AGS team and their Formula One aspirations. The JH21C was based on an AGS F3000 car and used some parts from the Renault team which had left F1 at the end of 1985. Originally the car was planned for the Arno F1 project but AGS took on the plans and entered the championship themselves. In the early days of AGS there were no more than seven people working for the team – comparable with the Coloni team who joined F1 in 1987. The difference between AGS and Coloni however was that AGS were more successful and managed to score points on two occasions.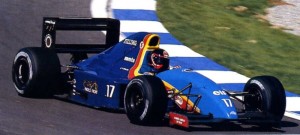 In 1991 AGS started the season with the AGS JH25, which failed to qualify for many of the races it entered. It performed well at the United States Grand Prix however, as Gabriele Tarquini managed to finish 8th overall. At both the Grands Prix of Brazil and Monaco the Italian qualified for the race but would retire from them both. During the French Grand Prix of 1991, the small team introduced the upgraded JH25B which included some aerodynamic updates for the car. The JH25B participated at the Grands Prix of France, Britain, Germany, Hungary and Belgium. But despite the upgrades, neither Gabriele Tarquini nor Fabrizio Barbazza could qualify the JH25B, and after the German Grand Prix neither could even escape the Friday pre-qualifying sessions. Due to budget problems there was no financial room to upgrade the car further, and thus the car only got slower as spare parts were almost used up.
On the weekend of the Italian Grand Prix the team arrived with a brand new car, the AGS JH27. However it was not brand new at all, the car looked familiar to the JH25B and was at some points even slower than its predecessor. The team, in the meantime sold to an Italian consortium, entered the Grands Prix in Italy, Portugal and Spain with the JH27. Neither Tarquini nor Barbazza managed to pre-qualify the car in Italy or Portugal, and Tarquini was eventually replaced by Olivier Grouillard for the Spanish Grand Prix. Spain would prove to be the final race for the team, and again they failed to pre-qualify. Fabrizio Barbazza still hoped to enter the Japanese Grand Prix with the JH27, but his hopes were dashed as AGS folded and was closed down.
For photos of the JH25B check this link.
For photos of the JH27 check this link.