In 1993 the first rumours appeared in the Formula One paddock about a Formula One team that would only have Female Formula One drivers, including the test driver would be a female.  It is not clear how these rumours of a Female Formula One Team entered the paddock. We invested these rumours and we found out that the rumour was false, there was no such plan for a F1 team with only Female drivers.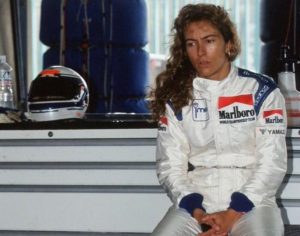 The rumours said that Cesare Fiorio , former sporting director of Ferrari and Minardi, would be the Technical Director of the team and the Forti F3000 team was involved as well. One of the drivers would have been Giovanna Amati, she already had Formula One experience. They even had a main sponsor suggested in the paddock it was Johnson & Johnson an. UnracedF1 contacted Cesare Fiorio him self, who lives in Milan, about this project and his role in it.   Regarding our email towards Cesare Fiorio we also tried to get contact with Giovanna Amati, sadly we didn't get responce from her side. How ever we received quickly a email back from Cesare See below:
Hello,
In fact I never heard of this project either…
In any case I never have been involved in such a program
Best regards
After the email we tried to get more information about the rumours and where the rumours came from. How ever it is almost impossible to find out where the rumours came from. It is possible that the rumours are actually based on some idea's people in the Autosport had. We only had a couple of Female Formula One drivers in the past, and such a team could give it a boost to have more woman in the Autosport. The idea is good but it seems that there where never seriously attempts for such a team.