Who doesn't remember the Spanish HRT team? They originally entered F1 under the name of Campos Meta 1, but quickly rebranded to Hispania, and then HRT because the team was in financial trouble even before their car had turned a wheel. But there was a second Spanish-based team which had attempted to join the Formula One grid in 2010 and also 2011. This was Epsilon Euskadi, the team from the Basque Country and run by Joan Villadelprat.
Epsilon Euskadi or better known as EPIC Racing was established in 1999 by Joan Villadelprat. Villadelprat had previously worked in Formula One for several teams including McLaren, Ferrari and Prost before starting his own racing team. The team was active in several championships and demonstrated their expertise and strength on many occasions. They scored team and driver championships in World Series by Renault, in several divisions of Formula Renault 2.0, and they attempted endurance racing with their own Epsilon Euskadi ee1 car in 2008 with limited success.
In 2009 Joan Villadelprat revealed an interest in entering Formula One in 2010 with his Epsilon Euskadi team.  The official bid was made on 3rd June 2009 and Villadelprat said his team had a budget ready for the next four years. Epsilon Euskadi were fortunate to have very modern facilities, with a brand new wind tunnel, several design and engineering departments, and their own factory. Besides that another €65 million was invested in the team to make it ready for Formula One. Despite the infrastructure and investment, the FIA did not award Epsilon Euskadi with an entry for 2010, but as a small consolation, they would be placed on the reserve list. Instead, it would be Manor (as Virgin Racing), Tony Fernandes' Malaysian effort, branded as Lotus Racing, the American USF1 team and the other Spanish team led by former F1 driver Adrián Campos, Campos Meta 1, who would complete a 26-strong grid for the 2010 F1 season.
It didn't take long before USF1 started making headlines for all the wrong reasons. Rumours suggested the team didn't have the financial backing it needed and that the operation had been completely mis-managed. It resulted in USF1 withdrawing before the season had even begun. Epsilon Euskadi was the first in line to be on the grid in USF1's place but the late withdrawal meant Epsilon Euskadi couldn't enter F1 in 2010 – there simply wasn't enough time. While the team had its infrastructure sorted, Villadelprat said they would, when they could, make a bid to be on the grid for 2011. This would give the team the time to design a car properly and have it tested.  In early 2010 the team duly announced their bid for 2011, which seemed promising.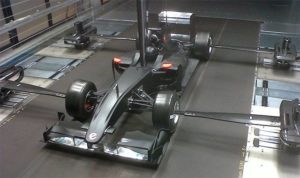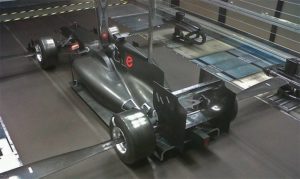 During the next few months Epsilon Euskadi started to design their car. Sergio Rinland, a well-respected designer,  would pen the first Formula One car for the team. In May 2010 the Royal Spanish Automobile Federation gave their full support to Epsilon Euskadi in their bid to secure a place on the 2011 F1 grid, and said they would do what they could do to help them achieve this.  When the bid was made, the team was once again placed on FIA's reserve list together with ART Grand Prix, Stefan Grand Prix, Durango and the American Cypher Group. Early in the process ART and Cypher pulled out their bids, which left Epsilon Eusakdi as the favourite to be on the grid in 2011.
Rinland told Autosport that he would love to see an Argentinian driver in the car, and he named Esteban Guerrieri as one of the drivers. He would have been the first Argentinian driver since Gastón Mazzacane drove his last race in 2001 for Prost GP.  In August 2010 the team completed their first wind tunnel testing and as far as is known, the results were pretty good.  While the team was busy preparing for Formula One in 2011 the Spanish TV station Marca Motor made a report of the team and their factory. In the video the wind tunnel model of the new F1 car was shown and Villadelprat spoke proudly of his team and its achievements so far.
A few weeks after, the FIA revealed that despite numerous entry bids for the spare slot, there would not be a new team in 2011 with just the 12 existing teams continuing. For the Epsilon Euskadi team it was sad news, however before the announcement there had already been rumours that the struggling Spanish HRT team might merge with Epsilon Euskadi to stay in Formula One. Meetings between Joan Villadelprat and José Ramón Carabante from HRT had already taken place.  But despite this, the merge never happened, and HRT would eventually close at the end of the 2012 season having struggled through three years in F1.
After their failed F1 bid, Epsilon Euskadi slowly collapsed amidst allegations of corruption. Between 2012 and 2013 the team withdrew from all race series they were active in and completely folded.  In November 2013 Joan Villadelprat appeared in the Spanish court and was convicted of corruption and negligence. He was banned from company administration for a period of three years and paid a fine of $900,000 for concealing assets as Epsilon Euskadi collapsed. It was a sad end for a team that had promised so much only a couple of years earlier.
For more photos see Facebook.
The Epsilon Euskadi site is still reachable via the archive.