The EUROLights series was an attempt to create an oval racing series in Europe. During the late 1990s and early 2000s CART and IRL became very popular in Europe. This interest culminated in 2001 when CART visited EuroSpeedway Lausitz in Germany, and Rockingham in Britain. The Rockingham 500, held in September 2001 was won by Gil de Ferran, and a few weeks later plans to have an oval open wheel series in Europe were formed, with Rockingham as the base for the new series.
On 10th January 2002, EUROLights series was officially announced as the new European oval series by Oval Race Management. The announcement pitched EUROLights series as a fit between Formula 3 and Formula 3000 in the motorsport ladder. It would offer drivers the unique opportunity to develop their abilities for the IRL and CART series in America.There was no mention about teams or tracks that the ultimately stillborn series would use.
Lola secured a three year deal to produce the spec chassis for the new series, which they based around the 2002 F3000 Lola B02/50. The Lola B255 was fitted with a 450bhp V6 engine from Langford Performance Engineering and had a supposed top speed of 305Km/h, which came close to the top speeds in IRL and CART.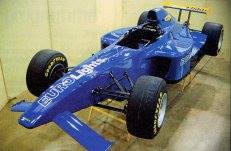 The new chassis and engine package would be tested intensively. The first test was scheduled for May 2002, and would continue through June, July and August.  After this period of testing, OVR would produce an official statement about the new series.  During the period from April to August 2002 further details about the series emerged. It was anticipated that the champion was to be offered either a race or a test session in IRL or CART, while unconfirmed rumours suggested that several teams had showed interest in the series, and one of those teams was Super Nova.
During June Lola produced a mock-up of their Lola B255. The car had similarities with those in IRL and CART such as the small wings and overall car shape but it was clear that the base of the B255 was Lola's F3000 car. It looked promising and Lola's commitment to the project showed how close Europe was to having its own oval series.  However in October it was rumoured that development of the series had stalled, and funds were being concentrated on strengthening the ASCAR series instead, which had been struggling.
No news appeared in the media after September 2002 concerning EUROLights and people stopped talking about the idea of an oval series in Europe. Would it have been a success? Who knows! There were, and still are several oval tracks in Europe such as Rockingham and EuroSpeedway Lausitz, but the eventual collapse of ASCAR proved how difficult it was to establish American-style motorsport in Europe. Even in America, CART would go bankrupt twice in the years following, and modern day IndyCar is still no match for the success and coverage it received in the 1990s.
The EUROLights series site is still available via archive.