Giovanni Lavaggi is one of the drivers that has been underrated during his career called an Paydriver. His nickname in the Formula one was Johnny Carwash and still many remind him as the driver that just sad in its Minardi during the German Grandprix of 1996. For me, for us, he is one of the drivers we still love after all these years. His Formula 1 career isn't what it should be. But he has a marvellous career and great results in other race divisions. We are proud to could do this interview with Giovanni Lavaggi.
How was it to enter the Formula one at the age of 37? And how did you react on the rumours and answers others in the Formula one world, but also outside the Formula one did react on your entry ?
For many people it's easier to talk bad about someone. In my case, for most of them was difficult to understand how an old driver like me (I was already 37 years old) could  make his debut in F1, without a standard career in kart and single seat. The answer is easy: despite what everybody things, I never had the money to start racing when I was young and I never had enough money to compete in the right way in the classic "Formula" championship, but I always had a great talent. Anyway I managed to achieve very good results with the minimum budget available, and every team manager who had me as a driver in his team knows my talent.
Giovanni Lavaggi, looking only to your Formula one results, people would say that your performance are poor. And you're nothing more then just "another Paydriver", how do you look at this?
It is not true that I performed bad during my Formula One career. I had terrible cars in my hands and no money to do any testing. In my entire experience in F1 (10 races) I completed less than 3.000 Km. Villeneuve, when arrived at Williams (after a full and successful season in CART), made more than 3.000 Km just in one month as winter tests!! Try to ask Minardi about my ability as a driver. He perfectly knows that my performances where quite a miracle with the material I had at my disposal: brakes dismounted from Pedro Lamy's car where mounted on my car, for example, and I broke 7 engines in 6 races (engines with 180 CV less than best engines like Ferrari or Renault!).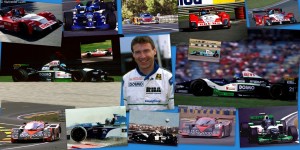 How did you do it in the Formula One, comparing it with your team mate at Minardi, Pedro Lamy? And let's not forget your amazing second place during the Bologna motorshow held in 1997!
Nevertheless on the telemetry everybody in the team saw that in the most difficult parts of the circuits I was often quicker than Lamy, such as T1 in Suzuka (where Lamy received an engine with 50 CV more than mine!!) or Eau rouge in Spa where I was completely flat with throttle and 10 Km faster than Lamy at the exit. Unfortunately the speed lines in the telemetry compare crossed during the following straight because my engine was beginning to brake. And what I should say about my second place at the Bologna motorshow, against two Benetton with Fisichella and Trulli, Panis with Ligier and my team mate Marques considered one of the quickest young Brazilian in the motorsport?All this without touching the car at all. In seven races not a little damage in my Minardi!!
People will always have their own opinion… how do you think about it Giovanni Lavaggi?
I don't care what people say about me, or what they think of my career as an driver. My life has always been a challenge against myself and I perfectly know my value. It is also a great satisfaction to have the appreciation of many fans like you, even after many years since my last F1 experience. I should write a book of my life, and you know maybe i will do this… on one day… when i'm retired of autosport… but surely not now! I'm hoping i can bring young drivers that passion and emotion you need to become successfully and survive. And my fire is still burning strong as an driver and as an constructor!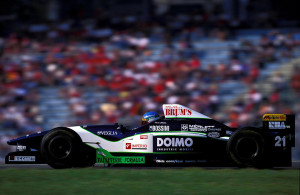 Let's dig deeper in your Formula One results.  How do you look at these results you managed with poor cars, and the most important how did you think about the journalists back in the day who basically wrote only bad stuff about you?
Unfortunately there are also a lot of bad commentaries typical of people who don't know the truth about certain situations. When i got the time i will write these journalist how it really was, and ask rectifications from them from that period. Back in the days when i entered the Formula One world many young but also older drivers thought "If Giovanni Lavaggi can enter the Formula One, I can do it!" But that thought is just wrong! If you got no experience with testing a Formula One car, no previous Formula One experience, and just an bad car it's hard perform reasonably well. Looking at these conditions i had to deal with you can say i did it pretty good. The facts are written in the results. During the four races i did for the Pacific Team, i was just one or two seconds slower then my team mate Andrea Montermini. Who entered all the races for Pacific during the 1995 season. Jean-Denis Délétraz, who replaced me after those four races was 6,6seconds slower during the qualification then Montermini, and quited the race due physical problems. During the German Grandprix at the Nürburgring he was still 3,2 seconds slower then Montermini. ( A big difference in performance, don't you agree?) Even the experienced Bertrand Gachot was during his eight Grandprix only four times faster then Montermini. Whe he re-entered the Pacific team six races later he was 1,4 seconds slower then Montermini was.  And 2,2 seconds slower during the Japanese Grandprix. In consideration of those results how do you judge my first experience in F1? Why journalists are not able to consider facts so easy to understand? May be they don't know anything about motorsport!
How should we look at the pay drivers, is every pay driver an non-talent? Or can we say that many pay drivers are lost talents?
Two general considerations:
1)                 Almost everybody pays for racing. Especially at the beginning of their career, but also later. It's the driver paying with his own money or their sponsors. In example, Schumacher went to Jordan with the money of Mercedes and, when he joined Ferrari, he got a big salary, but he brought even more money with his sponsor Shell. Alonso had Repsol at the beginning and now Santander. This just talking about very famous drivers.

2)                People do not understand that the performance of a driver depends on 90 % from the car. I said in '96: "please give my Minardi to Hill and his Williams to me and then we will see the results"….. Nobody dared to do it…. Look at the first races of this year: The two last world champions at the end of the grid and the slowest drivers of last year in front!! And now we haven't the bad situation of Minardi car, which had 180 CV less than all other cars.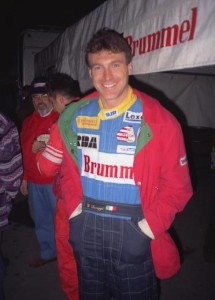 Giovanni lavaggi This may be an mean question, about the engine fire you had during the first Practice of the German Grandprix in 1996. People see this as one of the key moments during your Formula One career that proven you were an pay driver in the Formula One. How do you see this situation?
This was my first race with the Minardi in 1996. I went out for first free practice session and I noticed a malfunction of the engine. I came in the pits and I immediately avoiding high revs range (where I could feel the problem) and explained to the Cosworth engineers what the situation was. The engineers looked at their data and told me that "everything was just fine". I made another two or three "out-in" reporting telling them that something was wrong with the engine. They insisted that I shouldn't lift the throttle and keep going. I said "the engine will brake, and they said: "don't worry it will not brake". I went out I kept the throttle down to reach the revs they asked for …. and, on the second long straight, the engine broke. Sometimes even engineers don't understand their job, or only relay on the datathey received, and don't car what the driver feels! The engine lost some oil, and that started the fire underneath the engine cover. Therefore I couldn't see anything from mirrors. I came out of the car very slowly because i was very upset and disappointed because i basically  lost the Friday practice during my first race of the year. Then Minardi saw on the television the flames that came out of the air intake, and he shouted me "go out immediately, you have fire behind you". At that point i jumped out of the Minardi quickly. The journalists over there didn't mind the fact that i lost the Friday practice, and only made an laugh  watching that quick "speed change" in my movements. What can i say about them? Probably people with a poor spirit!
We are glad that Giovanni Lavaggi was willing to give this interview with us!
Don't forget to check out Giovanni Lavaggi's personal site and Constructor site.
 http://www.giovannilavaggi.com/ingle/lavaggi.htm
http://www.lavaggi.org/english/index.htm