One of the most fundamental mysteries of the 1994 Formula One season was why Ayrton Senna, one of the sport's greatest ever drivers, crash fatally at a relatively easy corner?
To this day, no-one knows for certain why Ayrton Senna crashed. Many theories of varying credibility have been put forward. My personal view is Senna, desperate to break free from the car behind, carried a bit too much speed into Tamburello the car went slightly offline onto a part of the track known to be extremely bumpy. The ride height was still too low after the safety car so it "bottomed out". This also caused the peaky aerodynamics on the Williams to stall resulting in a catastrophic loss of grip made worse by tyres not up to working pressures or temperatures.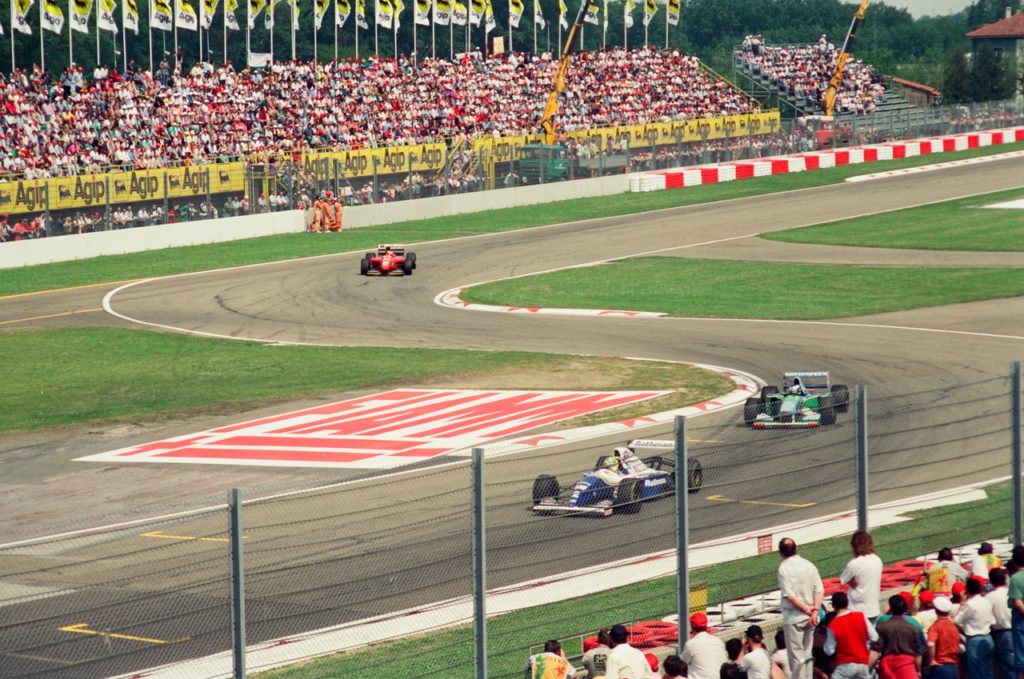 This view is shared by Hill who drove an identical car to Senna, and Schumacher, who had the clearest view of what started the crash. In my humble opinion, they are the two best people to judge its cause.
The pursuing Schumacher later explained what unfolded at Tamburello on lap seven. "I saw that Senna's car was touching the track at the back quite a lot on the lap before. It was very nervous in that corner, and he nearly lost it. Then on the next time through he did lose it. The car just touched the track with the rear skids, went a bit sideways, and then he just lost it." We know Senna did 188mph(302,5 KM/H) through Tamburello on lap six and 193mp(310,6 KM/H) on lap 7.
We also know from video footage that Senna took a faster but bumpier line. This sent huge sparks flying from the rear of his car – evidence of "bottoming". The largest plume appears as he left the third dark strip of resurfaced tarmac in the middle of Tamburello. Throughout qualifying and practice, you can see Senna's car "bottoming" through Tamburello much more than others. The difference then was, he did not have Schumacher right up behind him, his car was not fat with fuel and he would not have had tyre temperature/pressure issues caused by an Opel Vectra.
In his 2016 autobiography, Hill said he applied greater caution than Senna through Tamburello after the safety car, instead preferring to wait for the optimal heat and temperatures in his tyres. Hill also details the bumps at Tamburello explaining how he took a slower line than Senna to avoid the worst of them. Immediately following Senna's crash Patrick Head, Williams Technical director stated; "The car was set up the same as Hill's. The two were identical for springs and settings, but the underside of Hill's car is unmarked". Whereas there were suggestions the floor on Senna's car was heavily worn.
Furthermore, an unnamed driver suggested to Autosport magazine at the time that Tamburello wasn't as easily flat out as people believed. Stating it was much more difficult with the passive suspension than the active ride used in 1993. Admittedly quoting an unnamed driver isn't the greatest source, however, Autosport magazine is known for its credibility. Ex Formula One driver Jonathan Palmer said from his own experience of Tamburello "If the car is right, its actually not a real corner: it's flat, foot down, you don't really think about it…
But if the car's set up isn't right – which includes cases where the car is bottoming out too much – the picture changes considerably." Also consider that crashes due to driver error on apparently easy flat corners do happen, case in point Kevin Magnussen at Eau Rouge, Spa 2016.
Alternative reasons why Senna crashed, include a partial/total steering column failure, and a slow puncture from debris from the Lehto/Lamy startline crash causing the car to bottom out. Or the steering column getting ovaled enough in the bushing to seize in the bushing and prevent the driver from steering all are also highly likely. Tamburello is a book which investigates all these theories and more in great detail to try and resolve this mystery.
Whilst my book is not about what caused Senna's accident, it is well known that the triple Formula One Champion died believing that Schumacher's Benetton was illegal. If there is any truth behind these accusations, then – out of respect to Senna – that truth must be known.
A new book entitled 1994 – The Untold Story of a Tragic and Controversial F1 Season is a new book, which sheds light on hitherto unpublished facts & stories regarding that fateful year. It is available from Performance Publishing's website where you can also read a free sample of the book. Alternatively, an audio book version of 1994: The Untold Story is now available for purchase from the below websites. In fact you can listen to it for free at Audiobooks.com or estories.com via their initial trial period: https://www.audiobooks.co.uk/audiobook/1994-the-untold-story-of-a-tragic-and-controversial-f1-season/380646
Images courtesy; of Alan Dahl, Alastair Ladd and Martin Zustak