Jos Verstappen made it's debut in 1994 in the Formula One, after showing pure speed during his test for Footwork and McLaren. Eight years later Jos Verstappen had still the speed, though due to bad decisions making he was not on the hotlist anymore for many teams. It seemed the Honda project would finally give him the opportunity to race for a competitive team. Sadly, the project was canned after Postlethwaite's dead. However, it seems that there was another opportunity with Ferrari.
After the Honda project was canned, Verstappen came quickly in contact with Tom Walkinshaw's Arrows team. He knew the team already, he tested for them in 1993 (when the team was called Footwork) and in 1996 he was one of their drivers. Perhaps his move to Arrows in 2000, looking back at it, was not the best move. Tom Walkinshaw used Tom Coronel, he tested for Arrows in December 1999, as a tool to put more pressure on the management from Jos Verstappen.
While the Arrows A21 was a pretty good car, and the season went well for the team. A year later everything seemed different. The new Arrows A22 was not what they expected it to be and with only one point scored by Jos it was a random season for the team. The new Arrows A23 was already in the making in late 2001. It was build around Jos Verstappen, and with Jos behind the wheel the car would have been more successful. However, as Tom Walkinshaw was busy as well with the Phoenix Project from him and Charles Nickerson.
However, in January 2002 everyone was convinced that Jos Verstappen would race for the Orange Arrows team that year. Little did we know we were all wrong in this. A friend of mine remembered the Jos Verstappen Fanclub day meeting at the Autotron in the Netherlands. This was the 20th of January 2002. There he spoke about the rumours at Arrows, though he was convinced that he would race for the team. The 31th of January, as said, Jos would know for sure that the Arrows contract was signed.
What Jos mentioned there as well was the offer Michael Schumacher made to join him at Ferrari. At that time Jos and Michael were close friends. That friendship went back to the days at Benetton. It seems that Michael had asked Jos if his drive at Arrows was in jeopardy or not. Schumacher had offered Jos to join him at Ferrari and become the teams test and reserve driver. However, Verstappen declined the offer for Ferrari as he was sure his drive for 2002 was secured. At least there was a contract signed by him and Tom Walkinshaw for the 2002 season. As we know, contact don't mean anything.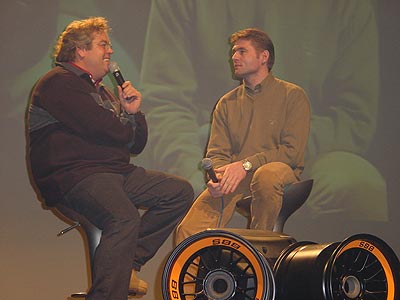 It's the 7th of February 2002 when the Arrows team released a press release stating that Enrique Heinz-Harald Frentzen would join Enrique Bernoldi who already had a contract for 2002. The saddest part about this is that Huub Rothengatter and Jos Verstappen learned via this press release that Jos would not race in 2002 for the Arrows team.
The editors of Verstappen.nl asked Jos a couple of questions a day later regarding his contract with Arrows and what his options were for the near future. There the names Toyota and Ferrari were named. It seems that Mika Salo would have liked it to have Verstappen next to him in the Toyota TF102.
However, the Ferrari part is the interesting part int his whole story. As said Schumacher offered Jos a test seat at the Ferrari team. Interesting is that he also spoke with Jean Todt in Norway when both Jos and Michael were on holiday there in late 2001 Jean Todt visited them as well. There were talks about a position for Jos within the Ferrari team.
This position at Ferrari in 2002, I still believe, would have boosted Jos his career in the Formula One. For example, Sauber was close with Ferrari at that time the team was also known as Ferrari's B-team.  While there were talks in 2002 and 2003 with the team there was nothing concrete. Having signed a contact with Ferrari to be their test driver he probably would have opened the doors for Sauber.
Felipe Massa drove in 2002 for the Sauber team as he was Ferrari's protégé. In 2003 Jos could have moved to Sauber, to stay there for another two or three seasons and complete his career in the Formula one in a proper way. He still would have raced in the A1GP I think after.  I think that his decline for Ferrari is a miss in his career.
Eventually Jos would return on the grid in 2003 with the Minardi team, the start of this journey was poorly. Only able to test the Minardi PS01B fitted with Avon tyres as there was contact with Michelin nor Bridgestone. It more or less showed, how his years in the Formula one were counted.